(CNN) -- President-elect Barack Obama's first major appointment received mixed reaction from Democrats and Republicans.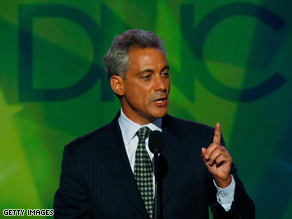 Rahm Emanuel's appointment got mixed reaction from Republican and Democratic leaders.
Rep. Rahm Emanuel on Thursday accepted Obama's offer to be White House chief of staff.
The Office of the Chief of Staff oversees and coordinates activities and communication among various departments of the administration. It is considered one of the top positions in Washington.
Some party leaders hailed Obama's pick, but others expressed concern that Emanuel would widen Washington's partisan divide.
Jim Manley, the senior communications adviser for Senate Majority Leader Harry Reid, said Emanuel is "an excellent choice."
"Rahm knows the Hill, and he knows the White House. He is a brilliant strategic thinker and someone who knows how to get things done."
Manley said allegations that Emanuel is a true partisan are "ridiculous."
Don't Miss
"Rahm understands politics is the art of compromise. He's got a deeply held set of views, but he also understands to get things done you have to compromise," he said.

Watch what Emanuel says about being considered for the job »
But House Minority Leader John Boehner questioned Obama's selection.
"This is an ironic choice for a president-elect who has promised to change Washington, make politics more civil and govern from the center," he said in a statement.
In his statement accepting the position, Emanuel directly addressed Republicans who might have concerns with his appointment.
"We often disagree, but I respect their motives. Now is a time for unity, and Mr. President-elect, I will do everything in my power to help you stitch together the frayed fabric of our politics and help summon Americans of both parties to unite in common purpose," he said. iReport.com: Who should be in Obama's cabinet?
Emanuel, who has a reputation as a tough political infighter, is credited with helping Democrats take control of the House in 2006.
The Chicago politician was elected to the House in 2002 and is the fourth highest-ranking member of the chamber's Democratic leadership. He worked on President Clinton's first presidential campaign and served as a White House adviser to Clinton.

Watch more on Rahm Emanuel »
Emanuel choked up as he said how glad he is his parents are alive to see him become chief of staff for the first African-American president.
Democratic Sen. Chris Dodd said he thinks Emanuel is a "great choice."
"I know that he and Barack Obama have a very good relationship going back a long time. So it touches all of the critical elements, it seems to me, in beginning that kind of transition we'd like to have. So I think it's a great choice, and I think the president-elect will be well-served with Rahm Emanuel," he said.
Republican Lindsey Graham sided with Dodd and called Emanuel a "wise choice."
"Rahm knows Capitol Hill and has great political skills. He can be a tough partisan but also understands the need to work together. He is well-suited for the position of White House chief of staff," the South Carolina senator said.
Graham said he and Emanuel worked together during the presidential debate negotiations, and "when we hit a rough spot, he always looked for a path forward."
Rep. John Larson, vice chairman of the House Democratic Caucus, said he looked forward to working with Emanuel.
"I would first like to congratulate my colleague and friend Rahm Emanuel on his new position in the Obama administration. I know the Obama administration will be well-served by his skills and acumen. I look forward to working with him on the president's agenda for the country," he said in a statement.
David Gergen, a CNN senior political analyst who has worked in five administrations, said the contrasting styles between Obama and Emanuel could help the new president get things done in Washington.
"They are obviously setting up a good cop/bad cop routine in the White House. ... Barack Obama can be the good guy," Gergen said.
At a news conference Friday, Obama is expected to take questions and talk about his first steps as president-elect.
E-mail to a friend

All About Rahm Emanuel • Barack Obama