By Kathleen Koch
CNN
WASHINGTON (CNN) -- In the waning days of the election season, as both parties campaign fervently for their candidates, one man has been notably absent -- President George W. Bush.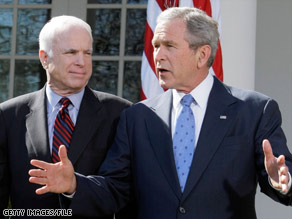 After announcing his endorsement of McCain, Bush has not appeared in public stumping for his party's nominee.
Reporters began asking questions immediately after the White House schedule last week noted Bush had no public events Friday through Monday, and would spend most of his time at Camp David.
"The president is pretty focused on the activities that we have here, especially getting this economy back in order," White House Press Secretary Dana Perino said Wednesday.
"We canceled a lot of our fundraisers, and he's going to focus on being with Mrs. Bush and others this weekend at Camp David."
But Perino couldn't list any fundraisers that had been canceled recently.
Friday, Deputy Press Secretary Tony Fratto offered a more detailed explanation.
"The truth is we're also trying to stay out of the public limelight during this period of the election season," said Fratto. "There are two individuals out there running to be president of the United States, and we don't want to complicate that for them."
Political experts acknowledge the reality that a lame-duck president with record low approval ratings -- 28 percent according to the latest CNN/Opinion Research Corp. poll -- is a political liability for Republican presidential candidate John McCain.
"These are all politicians who are running for office. They all read the polls. They all have their finger wetted and up to see where the breeze is blowing," said Stephen Hess, a veteran staffer of the Eisenhower and Nixon administrations and an adviser to Presidents Ford and Carter. "You can be sure that if George W. Bush was more popular, he'd be out there."

Watch why Bush hasn't been a high-profile fundraiser »
The numbers tell the story.
Of the 46 fundraisers President Bush attended this year, only four were open to cameras -- and those were events raising money for the Republican Party.
Don't Miss
The last time Bush appeared at a public fundraiser stumping for an individual candidate was August 27, 2007.
And the four fundraisers the president attended for Republican nominee John McCain have all been closed to the news media.
It's a stark contrast to the farewell campaign tour of the last two-term GOP president, Ronald Reagan, who left office with one of the highest approval ratings ever at the end of a presidency -- 64 percent.
Reagan embarked on a marathon coast-to-coast campaign swing for George H.W. Bush, the current president's father, during the final weekend of campaign '88.
"We went to battleground states, not safe Republican states. We went to Illinois. We went to Ohio. We went to Missouri. We went to Pennsylvania," said Ken Duberstein, who was Reagan's chief of staff.
A young George W. Bush attended the November 5 Reagan campaign rally in Mesquite, Texas, the Saturday before Americans went to the polls that year.
"It was a celebration," recalls Duberstein. "It wasn't simply a victory lap. It was almost a thank-you tour."
Duberstein, who is planning to vote for Barack Obama, said it must be difficult for the current President Bush to have seen that and know he'll never get one of his own.
"Yes, there might be some sadness today or tomorrow because he is like a good political thoroughbred. He wants to be out there running," Duberstein observed. "But sometimes you have to stay in the stable."
Bush is expected to remain out of sight until after the election. He and first lady Laura Bush have already voted by absentee ballot. They'll spend Tuesday evening at the White House with friends watching the results come in, said Perino.
E-mail to a friend

All About George W. Bush • U.S. Presidential Election