By Alexander Mooney
CNN

(CNN) -- It's Halloween on Friday, but campaign aides to Barack Obama and John McCain may be spooked for another reason: Events that dominated the news right before the previous two presidential elections may have been game-changers.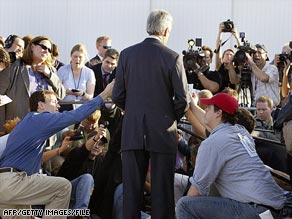 Aides to Sen. John Kerry believed a last-minute Osama bin Laden tape helped push President Bush over the top.
Aides to Sen. John Kerry were increasingly confident of victory four days before the 2004 election, believing that the Massachusetts senator performed strongly in three debates with President Bush and was buoyed by polls showing a last-minute surge for the Democratic ticket.
But that was before Osama bin Laden weighed in.
On Friday, October 29, the September 11 mastermind released a videotape to Arab television network al Jazeera in which he condemned President Bush's response to the September 11 attacks and told the American people, "Your security is in your own hands."
Many believed that bin Laden's statements implicitly endorsed Kerry, who was critical of the president's handling of the Iraq war. It also put the central theme of the Bush's re-election campaign -- terrorism and September 11 -- back on center stage as Kerry was hammering a closing message of economic stability and a change in leadership.
Historians and political observers have since debated how much of an effect bin Laden's tape ultimately had, but many aides to Kerry, and even the senator himself, believe that it was a crucial blow to the Democratic ticket and probably swayed just enough votes in battleground states to put Bush over the top.
"The Bush message was 'Be afraid; be very afraid,' and suddenly the biggest ghost and goblin of them all shows up, in the flesh, in the turban, giving us a lecture," Tad Devine, a senior adviser to the Kerry campaign, told CNN.
"When you have something that powerful and that visual that can be repeated over and over again, as it was on television, then it's a powerful reminder to people of the exact things we didn't want them to focus on."
Kerry, who had a 2 percentage point lead days before the election, ultimately lost the popular vote by 3 points and suffered razor-thin defeats in battleground states such as Iowa, New Mexico and Ohio.
Exit polls also suggest that the issue of terrorism spiked after the tape was released and 86 percent of voters who said terrorism was their top concern voted for Bush. Moral issues, however, still edged out terrorism as voters' top concern that year.
The exit polls also show that a little more than half of all voters thought the tape was important to their vote, though it's unclear which candidate the tape helped more.
Of those voters who agreed with the term "important," 32 percent said the tape was "very important." Of them, 53 percent went for Kerry, and 47 percent went for Bush. But of the 24 percent of voters who said the tape was "somewhat important," Bush edged out Kerry by 9 points.
"If there is one thing we could have changed about the last election, it would have been the release of that tape," Devine said. "If that tape hadn't happened, we could have won, we had the momentum."
On the Friday before the 2000 election, Americans woke to another headline that dominated the dwindling days: The night before, Bush acknowledged that he had been arrested for driving under the influence in 1976 in Maine.
Portland, Maine, television station WPXT, which had been covering an unrelated matter at the local courthouse, broke the story.
Aides to the then-Texas governor debated how to respond to the report and worried that it would reinforce the perception among many voters that he was a lightweight and a party boy late into adulthood.
After a period of media silence, Bush admitted to the arrest and said he had his "suspicions" over the timing of the revelation.
It remains unclear just how much effect that incident had on the outcome of the vote, although Al Gore faced a significant deficit in the polls in the final days of the campaign and fought his way back to an essential tie come Election Day.
Aides to Gore have insisted that the vice president was closing strong anyway and contend that the ultimate game-changer was Bush's suggestion that Social Security wasn't a federal program, much to the ire of many crucial senior voters.
But many Bush advisers contend that the incident swayed a crucial amount of undecided voters, especially in a year in which no pressing economic or national security issue dominated.
"That story opened a door that was nearly closed at that point in the race: doubts about George Bush," GOP strategist and CNN contributor Alex Castellanos said. "It took the spotlight off Al Gore and made the final weekend a referendum on Bush."
The 2000 exit polls indicated that nearly one in five voters decided whom to vote for during the last week. Political observers said that was a sign that last-minute news revelations, including Bush's DUI, may have had a significant effect on voting.
Nearly 30 percent of voters in those same exit polls said Bush's DUI was at least "somewhat important" to their vote.
But with the nation's economy firmly entrenched as the top election issue, analysts say that not even an Osama bin Laden tape would elevate terrorism to the No. 1 issue.
Given the crucial issues of this election cycle, it's unlikely too many voters would be swayed by revelations of decades-old shenanigans from either candidate.
Barack Obama, however, may be more vulnerable to some sort of surprise.
"If something in his background that was totally unknown and very suspect came out immediately, I think it would hurt him," Devine said.
E-mail to a friend

All About U.S. Presidential Election • George W. Bush • John Kerry • Barack Obama • John McCain