By Campbell Brown
CNN

Editor's note: Campbell Brown anchors CNN's "Campbell Brown: No Bias, No Bull" at 8 p.m. ET Mondays through Fridays. She delivered this commentary during the "Cutting through the Bull" segment of Friday night's broadcast.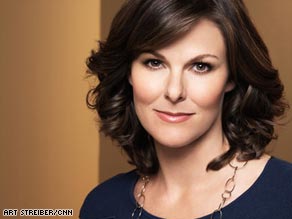 CNN's Campbell Brown says a few hours in line is a small price to pay for making your voice heard.
(CNN) -- Swarms of people are at polling places in Atlanta, Wait times as long as eight to 10 hours. Long lines reported in Virginia. Up to four hour wait-times down in Florida, and both Florida and North Carolina extended their hours to try to accommodate the crowds. And this is just for early voting. Sort of makes you want to say, wow... do I really need this headache come Tuesday? Yes. Yes, you do.
A couple of points:
1. This isn't happening everywhere, and the lines at your neighborhood polling place might just be humming right along.
'No bias, no bull'
Get the latest on the presidential race on "Campbell Brown: No Bias, No Bull"
8 ET Monday through Friday on CNN

2. This is all the result of the fantastic re-engagement of the American people in our political process. Turnout is supposed to break records across the country. People are genuinely excited about exercising this right, the way they haven't been in years. Don't give up or give in to apathy now.
3. So what if you have to wait a few hours? I was in Baghdad for the first Iraqi elections. Remember that? Bombs were going off, and all those people were showing up to get that purple ink stain on their finger. We can all certainly suck it up for a couple of hours if we have to.
That said, it doesn't have to be this way. I don't blame state election officials for not being able to predict record-breaking turnout. All they had to base their planning on were the last few elections, and everybody out there was pretty ho-hum about voting then.
Don't Miss
But going forward, we should look at the bigger picture. Early voting should be everywhere. Nevada lets you cast your ballot at the grocery store. Voting's been under way there for days. It should be that easy in every state.
This is a huge moment for our country. Regardless of who you are supporting, this is a huge moment. Go get in line. You don't want to miss out.
E-mail to a friend

All About Elections and Voting