By Campbell Brown
CNN
Editor's note: Campbell Brown anchors CNN's "Campbell Brown: No Bias, No Bull" at 8 p.m. ET Mondays through Fridays. She delivered this commentary during the "Cutting through the Bull" segment of Thursday night's broadcast.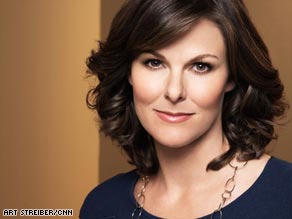 CNN's Campbell Brown says she's eager to find out if young voters will really turn out in droves Tuesday.
(CNN) -- In this election, young voters have been the toast of the town.
As pundits have told us, they will be turning out this year in record numbers. And if Democratic candidate Barack Obama wins, it will be the youth of this country who gave him the presidency.
Or it won't -- because early evidence suggests that young voters just might do what they always do: blow it off, stay home, space out and get a better offer.
In Florida, where early voting has been under way for 11 days, The Orlando Sentinel has been crunching the numbers. And guess what they found: People younger than 35 are so far the worst performing demographic group among the early voters.

Watch Campbell Brown talk about the youth vote »
'No bias, no bull'
Get the latest on the presidential race on "Campbell Brown: No Bias, No Bull"
8 ET Monday through Friday on CNN

It's not just Florida. Gallup's daily tracking poll shows a similar trend nationally. Based on interviews they've conducted over the last few weeks, Gallup concluded there is scant evidence to suggest we are going to see a real game-changing youth turnout.
So what is happening here? All those seemingly hyper-enthusiastic stars of Youtube.com videos pledging to change the world, where are you? Are you really going to own this election? iReport.com: Young voters head to the polls
Don't Miss
Quite possibly, says one political scientist. Think back to your college days. You're cramming for a final, you procrastinate. But in the end, on exam day, you will show up. Or will you? We can't wait to find out.
The opinions expressed in this commentary are solely those of Campbell Brown.
E-mail to a friend

All About Election Campaigns