From Paul Courson
CNN

WASHINGTON (CNN) -- The judge in the federal corruption trial of U.S. Sen. Ted Stevens dismissed the jury Friday morning after a female juror left for California to deal with the death of her father.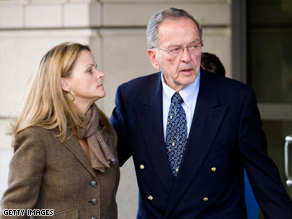 Sen. Ted Stevens leaves the federal courthouse Thursday with his daughter Beth Stevens.
U.S. District Judge Emmet Sullivan asked attorneys in the case to join him in a telephone conversation with juror No. 4 at 5 p.m. Sunday in his chambers to find out when she plans to return to Washington.
If she comes back after Tuesday, Sullivan indicated he might support replacing her with an alternate juror, but acknowledged that would cause an unwanted delay. Each time someone is added to the jury, deliberations have to begin anew. The jury began deliberations at noon Wednesday.
The judge may decide to allow the remaining 11 jurors to resume deliberations where they left off.
To deal with either contingency, the judge brought the first alternate to the courtroom after the regular jurors had departed. The alternate, a woman in her 20s who does the Web site at her church, answered a series of questions and indicated she has not been exposed to media coverage and could be impartial.
Stevens asked for a speedy trial in the hope he is cleared of the seven felony counts against him, thereby improving his chances for re-election to a seventh term. He is in a tight race against the Democratic mayor of Anchorage.
The senator is accused of falsifying Senate financial disclosure forms over several years related to extensive renovations at the family home in Girdwood, Alaska. The remodeling was done by his longtime friend, Bill Allen, and Allen's oil industry services company Veco Corp.
"Senator Stevens respectfully requests that the jury not deliberate on Friday," defense attorneys wrote in a court document filed late Thursday. They said Sullivan "should order deliberations to continue with 11 jurors if it determines that juror No. 4 cannot continue to serve."
E-mail to a friend

All About Ted Stevens • Alaska