By John King
CNN Chief National Correspondent

CHARLOTTE, North Carolina (CNN) -- It is a methodical routine: House by house, Mary Boyd walks to the door and carefully affixes an election guide to the doorknob.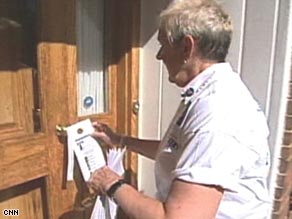 Mary Boyd goes door to door for the Republican Party in Mecklenburg County, North Carolina.
Boyd is a foot soldier of the Mecklenburg County Republican Party, charged with finding -- and helping deliver -- every available GOP vote.
"And the best way to do that is to take a list of registered Republican households and take a piece of literature and leave it right on their door so that they have easy access to the information," Boyd cheerfully said during her rounds in a Charlotte neighborhood this week.
It is Boyd's third presidential campaign as precinct captain; twice before, she has walked these streets for a ticket led by George W. Bush.
This year is very different.

Watch more on the battleground states »
"Well, it is extremely close," she said matter-of-factly in describing the biggest difference. "I think John McCain is going to win North Carolina. I hope by a lot. But we will take it any way we can get it."
Extremely close in North Carolina is extremely rare in a presidential race. "Unprecedented" is the word local Republicans use to describe one of the reasons it is so close: For the first time in memory, they are outnumbered when it comes to troops deployed in the state for the ground war of contacting and turning out voters.
Sen. Barack Obama has 45 offices in the state, to 30 for McCain, and a paid staff that dwarfs the GOP payroll in the state. Helping the Obama effort are busloads of volunteers, including African-American college students from Tennessee who went door to door canvassing for Obama this week.
Don't Miss
Ashley Taylor was among them, with a set routine once the door cracked open.
"Hello, I am Ashley Taylor, and I am with the Barack Obama campaign, so we are just going around to see if the neighbors here have registered to vote and if they have gone out to do early voting."
Early voting runs through November 1 in North Carolina and is the urgent focus of the vast Obama field operation at the moment. From its perspective, so far, so good: Democrats outnumber Republicans more than two to one in early voting tallies in the state.
The latest CNN battleground poll shows a statistical dead heat in a state last carried by a Democratic presidential candidate in 1976.

Watch more on the state of the race »
Mecklenburg County GOP Chairman Lee Teague attributes much of the political dynamic to Obama's resources, which include a three to one edge in TV ad spending in the state as well as the deeper ground operation.
Said Teague, "There are days when we are in the movie 'Braveheart,' and we are the Scots, and they are the English."
One challenge, Teague concedes, is that in usually reliably Republican states like North Carolina, the local organizations do not have the battle scars and experience of states where elections are routinely very close.
"It is a lot more competitive," he said of North Carolina now as compared with four years ago. "And, yeah, we haven't had the practice, if you will, that folks in Ohio or Florida have in really ginning up the turnout for the presidential level."
Sue Myrick was the Charlotte mayor before being elected to Congress as a Republican.
She is favored for re-election but says no candidate, especially a Republican, should feel comfortable in such a volatile political environment. Adding to the uncertainty is the rapid population growth in North Carolina.
"We've got so many new people. ... Every two years, about 25 percent of my district literally changes,'" Myrick said during a break from work at her campaign headquarters.
Many of the newcomers are unaffiliated or independent voters, making her district and the state less reliably Republican.
"The worst thing anyone can do is take anything for granted," Myrick said.
We spoke on a day much of the national political conversation was about a "Palin Drag": anecdotal accounts and polling data showing that GOP vice presidential candidate Sarah Palin is a drag on the ticket in crucial suburban areas and among independents.
Not the case in North Carolina, said Myrick.
"Sarah Palin has energized a lot of the base of the Republican Party, and a lot of people are supporting her as well as John McCain," she said.
Wachovia bank is based in Charlotte, and its troubles have added to significant economic anxiety. A merger deal with Wells Fargo has calmed things some -- "a sigh of relief" is how Myrick put it -- but economic concerns continue to drive the election.
Even here, Myrick said, it is wise of McCain to establish an identity separate from President Bush.
"A lot of people aren't happy with him," she said of the president. "I have been frustrated with him myself."
Add it all up -- the troubled economy, an unpopular president, excitement among African-Americans and an unprecedented Obama ground and air campaign -- and Myrick sees this as the environment facing McCain and fellow Republicans:
"I think everything is close this year," she said. "All the norms are out the window. This isn't where you can predict some of the things that you have in the past, and I think that is true all across the country, not just here in North Carolina."
E-mail to a friend

All About John McCain • Barack Obama • North Carolina