By Kristi Keck
CNN
(CNN) -- With less than 30 days until the election, Sens. Barack Obama and John McCain are stepping up their negative ads as they try to win over the narrowing margin of undecided voters.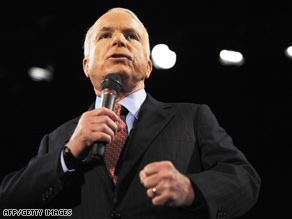 Sen. John McCain's campaign has said to expect more aggressive attacks in the final month of campaigning.
Experts warn that going negative could repel independent voters, but Bruce Vanden Bergh, a professor of advertising at Michigan State University, said with the election so close and the stakes so high, campaigns tend to take a different turn.
"When you are down to crunch time and it's win or lose, you throw niceties out the window," said Vanden Bergh, who is an independent voter.
More than 25 percent of people who voted in the last presidential election identified themselves as independents.
The independents, combined with voters who have yet to make up their mind, could decide who ends up in the White House.
"The base of the Democratic and Republican parties -- their votes are predictable," said John Avlon, author of "Independent Nation: How Centrists Can Change American Politics." "It's the swing voters who decide who's going to carry the balance of power."
As Election Day approaches, both campaigns are sharpening their attacks. The Obama campaign on Monday released a documentary that tries to draw a parallel between McCain's involvement in the "Keating Five" scandal and the current economic crisis.
McCain's campaign also played the association game, raising questions about Obama's ties to Bill Ayers, a founding member of the radical Weather Underground. Alaska Gov. Sarah Palin accused Obama of "palling around with terrorists who target their own country."
Presidential Debate
Nashville is the battleground as the candidates face off in their second debate. Don't miss a minute of the action!
Tonight, 9 p.m. ET
McCain's campaign said this weekend that in the final month until the election, it plans to "fight back" with more aggressive jabs.

Watch how the gloves are coming off on the trail »
Even before the candidates came out with their stepped-up attacks, Avlon warned that they "need to be very careful, because hypocrisy is the unforgivable sin in politics."
"Independent voters are very sensitive to when politics takes a negative turn," he said.
He added, "Whenever the campaign takes a negative turn, independent voters notice, and they'll punish the candidate that takes it too far."
So why go negative and risk alienating the independents?
In a 30-second spot, campaigns have limited time to get a simple but memorable message across to voters. Vanden Bergh said a negative ad "seems to break through the clutter and get to people."
Independent voters, he said, are the group that's willing to give each side a chance. Members of this group are the ones who, in marketing terms, are the "brand switchers."
"Rather than draw people to you for positive reasons, you give people reasons not to vote [for your opponent,]" Vanden Bergh said.
Just like in a courtroom, he said, the campaigns are trying to make the case for their candidate, and they do so by trying to discredit the other side.
The goal is to get voters to think, "I don't care what they said because the person is not credible," Vanden Bergh said.
Hilary Rosen, a Democratic strategist and CNN contributor, said McCain "has no choice right now but to try to hit the reset button on this campaign."
According to CNN's latest average of national surveys, McCain trails Obama by 6 percentage points.
Rosen said McCain has "hit reset" twice in recent months. He did so successfully when he picked Palin as his running mate, leading to a bounce in the polls. But his call last month to suspend his campaign to focus on the financial crisis wasn't a good move, she said.
"I don't think that they are going to be successful if their reset button attempt here is to go negative against Barack Obama," she said.
Republican strategist Alex Castellanos also has words of caution for the candidates.
"You can pry voters away from your opponent. But you also have to give voters a place to go. And right now there is an economic fire. And people want somebody to put that fire out," he said.
Castellanos said that for the McCain attacks to work, the GOP presidential nominee needs to get on television and make sure voters know his economic story.
"Get on TV, buy two minutes of TV, on CNN maybe, every night for a week. And say, 'Hey, this is my strategy for a stronger economy,' " he said. "John McCain needs to do something big and bold on the economic-plus side to make the attacks work."
Obama and McCain will have a chance to call each other out on the most recent slew of attacks when they face off Tuesday in their second presidential debate, which will be set up like a town hall meeting.
The audience will be made up of uncommitted voters who will have an opportunity to ask questions.
Bill Schneider, CNN's senior political analyst, said both candidates will have to be careful with their attacks, given the format of the evening.
"If either of the candidates tries to go negative when you're with an audience of ordinary voters, they don't like it. We've heard them sometimes get very upset when the candidates start attacking each other, so that's going to be hard to do in a town hall format," Schneider said.
The campaigns know that voters don't like the negativity, Vanden Bergh said, but what matters is what the voters remember when they step into the voting booth.
"They are probably willing to have people not like what they do so much because it sticks in their mind," he said.
E-mail to a friend

All About Barack Obama • John McCain