From Terry Frieden
CNN Justice Producer

WASHINGTON (CNN) -- The new special prosecutor who will investigate the 2006 firings of eight U.S. attorneys will be given virtually complete independence, the Justice Department said Friday.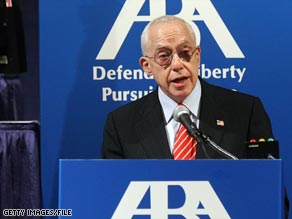 Attorney General Michael Mukasey announced the appointment of a special prosecutor Monday.
The promise to allow Nora Dannehy to run the probe as she wants came hours after Democrats complained to the Justice Department inspector general that the attorney general or his deputy could interfere with the investigation.
Under the appointment by Attorney General Michael Mukasey, Dannehy will officially report to him and to his deputy Mark Filip.
Democrats demanded to know whether the prosecutor would be allowed to empanel a grand jury and subpoena former White House officials Karl Rove and Harriett Miers, who refused to be interviewed by the inspector general.
"Ms. Dannehy has the authority to conduct this investigation however she sees fit, including the independence and ability to seek documents, information and testimony as she sees fit," said Justice Department spokesman Peter Carr.
The issue arose Friday when Inspector General Glenn Fine testified on Capitol Hill about the results of his investigation into the firings.
His final report, released Monday, found inappropriate political meddling in at least one of the firings and urged a special prosecutor to be named to find out whether any laws were broken.
Don't Miss
Mukasey promptly named Dannehy, a career prosecutor and the acting U.S. attorney for Connecticut.
Justice Department officials said Dannehy will provide a confidential status report on her investigation after two months. Democratic lawmakers want the interim report to be made public.
The uproar over the firings led to the resignation last year of Attorney General Alberto Gonzales. Mukasey was appointed as his replacement.
E-mail to a friend

All About U.S. Department of Justice • Michael Mukasey • Alberto Gonzales