By Shea Connelly
Cavalier Daily
Editor's Note: Shea Connelly is a writer for the Cavalier Daily, the leading news source for the University of Virginia. This article was brought to CNN.com by UWIRE, the leading provider of student-generated content. UWIRE aims to identify and promote the brightest young content creators and deliver their work to a larger audience via professional media partners such as CNN.com. Visit UWIRE.com to learn more.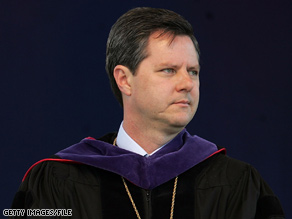 Chancellor Jerry Falwell, Jr. kicked off the voter drive by urging students to register locally.
(UWIRE) -- The commonwealth of Virginia has traditionally been a Republican stronghold -- the last time a Democratic presidential candidate won the state was in 1964.
But with recent polls showing Sen. John McCain only slightly ahead of Sen. Barack Obama, Virginia remains up for grabs. And the last two statewide offices -- for governor and U.S. senator -- have been won by Democrats.
Given the close nature of the presidential race, Jerry Falwell, Jr., chancellor of Liberty University, recently launched an ambitious effort to register all 10,500 eligible student voters at the fundamental Baptist institution in Lynchburg, Virginia.
Falwell kicked off the voter registration drive September 22, urging students -- including those from out-of-state -- to register locally.
"Liberty students have never been permitted to register locally in the past. The recent change in election law is giving Liberty University the chance to make history," Falwell stated in an e-mail addressed to faculty and staff. "Liberty University's 11,000 students and 4,000 faculty and staff could cause Liberty to become known as the university that elected a president!"
Since the announcement of the registration campaign, students have been offered voter registration forms by resident advisers during residence hall meetings and by professors during class. Jonathan Woods, a junior at Liberty and resident adviser, said he and fellow RAs were instructed to educate their residents about registering to vote during a regular RA meeting.
"That night, in our hall meetings, we had to explain that it's a good and unique opportunity," Woods said, "because not too long ago they [out-of-state students] weren't able to register in Virginia."
Don't Miss
Liberty sophomore Zach Rowe said Falwell has been pressuring students not only to vote, but also to register to vote in Virginia.
"It's definitely been pushed to vote," Rowe said, "especially to vote locally." Rowe noted, however, that he still plans to vote in Pennsylvania by absentee ballot.
"Pennsylvania is a swing state, too," he said.
In addition to the increased availability of voter registration forms, classes will be canceled on Election Day, and buses will be available to shuttle students to the polls.
"It's a major election -- they really want students to vote," Liberty freshman Bethany Hernandez said. "Some teachers are giving extra credit if you register to vote."
Falwell's belief that Liberty could impact the outcome of Virginia's election may seem like wishful thinking, but Virginia's 2006 U.S. Senate race was decided by slightly less than 10,000 votes.
"The majority of Liberty students want McCain to win," Woods said. "If you have a few thousand people voting for one candidate, who weren't [initially] voting in Virginia, it could possibly make a difference."
Ashley Barbera, communications director of the College Republicans National Committee, said college students have the potential to significantly impact the outcome of this election.
"I think you're going to see young voters and young activists playing a very important and crucial role," Barbera said, noting that many of the swing states, such as Virginia and Ohio, are home to a number of large universities.
"They're states where College Republicans federations are really stepping up to the plate," Barbera said.
Though the College Republicans National Committee is not working specifically with Liberty University's administration, Barbera said Liberty's voter registration efforts are consistent with College Republicans' national mission.
"Virginia is obviously a swing state, and the polls are showing how close that state is on a day-to-day basis," Barbera said. "If you could get potentially an extra thousand votes there, that could swing a state and that could determine an election."
Though Falwell may believe Liberty students can help to secure Virginia for McCain, College Democrats of America President Katie Naranjo is not worried.
"I feel very comfortable that young people will sway the vote in Virginia," Naranjo said, "and it will be a victory for Senator Obama."
Naranjo, referencing recent national polls showing Obama ahead by a few percentage points, suggested, "Maybe that's why Liberty is scared."
Jared Leopold, communications director for the Democratic Party of Virginia's Coordinated Campaign, said the Democratic Party of Virginia encourages all efforts to reach out to college students.
"This is a historic election," Leopold said. "For many young people this will be the first election they'll participate in. We encourage all college students to get registered." Though a majority of the students registered at Liberty will be voting for McCain, Leopold is not concerned.
"We've seen a lot of college students register across the state," Leopold said. "We're confident that a large majority of college students and young people will side with Barack Obama and the democratic ticket."
Regardless of whether Liberty voters affect the outcome of this election, Hernandez said the voter registration drive might just be the beginning of Liberty University's political influence.
"It could be a starting point. Maybe it won't change anything this time, but in the future," she said. "If the school keeps up the initiative, even just one little change is probably going to affect the future."
E-mail to a friend

All About U.S. Presidential Election • College Life