From Deirdre Walsh
CNN Congressional Producer
WASHINGTON (CNN) -- After months of high-pitched battles with Republicans over the issue of offshore drilling, House Democrats have given in and decided to allow a 26-year ban on drilling to expire at the end of the month.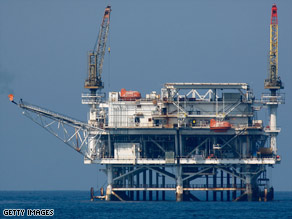 A $600 billion funding bill won't include any language on offshore drilling, effectively lifting the ban on October 1.
House Appropriations Committee Chairman David Obey, D-Wisconsin, told reporters Tuesday that a massive $600 billion stopgap funding bill slated for a House vote on Wednesday will not include any language on drilling, effectively lifting the ban on October 1.
Democrats pushed to add a proposal passed in the House of Representatives last week to open up areas at least 50 miles offshore to drilling if states agree, but the White House objected.
"So that will mean ... this next election will decide what our drilling policy will be because there will be no language in this bill on that subject, and as you know that means that at least temporarily the moratorium is lifted," Obey said.
Republicans on Capitol Hill have seized on offshore oil drilling as a major election-year issue, citing public opinion polls that show a majority of Americans support more offshore drilling. iReport.com: Do you support offshore drilling?
House Speaker Nancy Pelosi, D-California, had incurred Republican wrath originally for blocking any vote on drilling before allowing a vote on limited drilling earlier this month.
The $600 billion bill will continue government spending at the current level through March 6. Obey said this timeline gives adequate funding for government programs through early next year.
Don't Miss
"I don't want that hanging over the head of a new president, whoever he may be, while we're trying to get the new administration off and running," he said.
In addition to keeping government agencies funded through the spring, the package will include $25 billion in loan guarantees for U.S. automakers, $23 billion to $24 billion in disaster aid for flood and hurricane recovery efforts, $2 billion for Pell grants for student loans and $5.2 billion for low-income energy assistance.
Democrats decided to get a vote on this funding measure out of the way but plan to move an economic stimulus package separately. The stimulus package is still being crafted but likely would include an extension of unemployment benefits, food stamps, aid to states for Medicare and Medicaid, and billions for infrastructure programs designed to add more jobs to a slowing economy.
"We will wind up letting the stimulus package rise or fall on its own merits," Obey said.
Obey said he negotiated the funding bill with the White House, adding that "I have every reason to believe they will accept it."
Obey declined to speak for the Senate but indicated Senate Democrats are supportive.
E-mail to a friend

All About Oil Production and Refining • Dave Obey