UNITED NATIONS (CNN) -- President Bush on Tuesday sought to reassure the United Nations that the United States is taking swift action to stabilize the U.S. and world economies.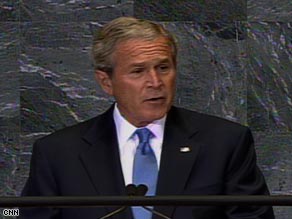 President Bush addresses the United Nations General Assembly on Tuesday morning.
"Our economies are more closely connected than ever before," he said during his annual address to the General Assembly, "and I know that many of you here are watching how the United States government will address the problems in our financial system."
Bush noted that several steps already had been taken: bailouts and buyouts of major investment, banking and insurance companies; pumping new cash into the economy; and the government purchase of bad debts.
Further action is coming, he said, even as Congress held hearings Tuesday on the government's bailout plan.

Watch Bush seek to assuage worries »
"I'm confident we will act in the urgent time frame required," he said.
The bulk of Bush's speech was devoted to terrorism, which he said poses a challenge "as serious as any since the U.N.'s founding."
The president reasserted the "Bush Doctrine" of fighting terrorists before they strike, and called on the United Nations to take an active role in the effort.
Ahmadinejad Exclusive
A revealing face-to-face interview with the President of Iran. Watch Mahmoud Ahmadinejad on "Larry King Live."
Tonight, 9 ET
"Bringing the terrorists to justice does not create terrorism," he said. "It's the best way to protect our people."
Bush praised the work of the U.N. and the Group of Eight economic powers, as well as other international groups, for their work against terrorism, and asked for further measures.

Watch Bush lay out the challenge »
"We must not relent until our people are safe from this threat to our civilization," Bush said.
He said it would be "comforting" to think that the lack of a major terror attack in recent times meant the threat had passed. But, he warned, "This would be wrong."
He also spoke out against tyranny, praising movements toward democracy in several countries.
"Whenever or wherever people are given a choice, they choose freedom," he said.
Don't Miss
Bush said the United States will stand by the former Soviet republic of Georgia, which last month lost a short military conflict with Russia.
"Young democracies around the world are watching to see how we respond to this test," he said.
Russian President Dmitri Medvedev and Prime Minister Vladimir Putin were not present for Bush's speech.
Overcoming poverty, disease and ignorance is in the interest of all nations, Bush said.
He urged the elimination of barriers to free trade and assured the assembly that the United States would act quickly to stabilize its own and the world's economies.
E-mail to a friend

All About United Nations • George W. Bush