(CNN) -- Alaska Gov. Sarah Palin accepted the GOP vice presidential nomination at the party's convention Wednesday with a speech highly critical of Democratic presidential candidate Sen. Barack Obama.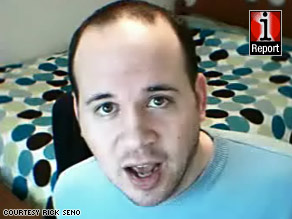 Green Party supporter Rick Seno described Palin as "the female version of Barack Obama."
Palin, who was mayor of a small town before she became governor of Alaska almost two years ago, slammed Obama for what she insisted was his lack of political experience and accused him of being two-sided when he is appealing to voters.
Her speech received raucous applause from the convention crowd in St. Paul, Minnesota, and an equally strong reaction from iReporters across the country.

Watch what iReporters had to say »
"She came in with bats swinging and hit a home run with me," said iReporter Barbara Grant of New Haven, Connecticut.
Grant, who voted for Democratic presidential candidate John Kerry in 2004, said she plans to vote for Republican candidate Sen. John McCain in November. She is pleased with his choice of running mate. "[Palin] seems like a very solid person," Grant said. "I look forward to hearing more of what she has to say."
Darla Jones described Palin's speech as "refreshing." Jones, a McCain supporter, said she has watched the entire convention so far. "Amazing that two weeks ago we knew nothing about this woman, and tonight I sit very moved by her speech," she said. iReport.com: See what everyone had to say
McCain announced Palin as his vice presidential pick Friday. The relatively unknown politician and mother of five has since been the focus of media and voters' attention.
As a small-town resident, Jones said Palin's words "express my views and my friends' and family's views." Jones lives in Roseburg, Oregon, a town with a population around 21,000.
Green Party supporter Rick Seno sees Palin as "the female Republican version of Barack Obama." The Dallas, Texas, resident said he noticed several similarities between the two politicians as Palin delivered her convention speech.
"She's a talented speaker. She gives a great speech. She has the ability to capture people's attention and give them hope and make them excited," he said. "But when it comes to her record and her lack of experience, she is equally unprepared to be in the White House."
To Rob Crawford of Washington, D.C., Palin appeared "condescending and elitist" during her acceptance speech. Crawford, who supports Obama, described last week's Democratic National Convention as "inclusive" and the Republican convention as "divisive."
"I feel as if this country will be more divided than ever tomorrow morning," he wrote on iReport.com after watching Palin's address. "I did not feel this way last week. I saw the same thing eight years ago with a charming, affable guy from Texas who had very bad ideas."
James Martin of Mooresville, Nouth Carolina, described Palin as "nasty, crude and totally unacceptable as VP." He was especially offended by the "cheap shots" she took at Obama and Democratic running mate Joe Biden.
"I can't see how America can be better off electing someone who shows so little respect," he added. iReport.com: Watch one iReporter who says Democrats will fight
Canadian Marcie M. Farsea said it was obvious why Palin earned the nickname "Sarah Barracuda," given her criticism of Obama and Biden Wednesday night.
"The most surprising thing was to see the humor and how she absolutely shredded both Mr. Obama and Mr. Biden," Farsea said.
Although she is ineligible to vote in the presidential election, Farsea said she and other Canadians have taken a strong interest in the race. She is not leaning toward a particular candidate.
As for Palin, Farsea said the Alaska governor "certainly makes it much more of a contest."
Steve Duffy of Salt Lake City, Utah, was dismayed by Palin's "snarky" comments during her speech. Duffy, a former supporter of Republican Ron Paul, said he and other Americans hoped for uplifting speeches rather than political attacks.
"This does not help the political discourse and it does not make people admire you for being selected as the Republican candidate for vice president," said Duffy, who recently decided to support Obama.
While Kuntal Warwick agreed that Palin was an impressive speaker, she found the Alaska governor's tone offensive. "Yes, she was tough, yes, she spoke well and yes, she sold herself," Warwick said. "However Sarah Palin will not get my vote in November for some of the same reasons that I was reluctant to vote for [Sen. Hillary Clinton] during the primaries. She came across as angry and overconfident."
Political pundits consider McCain's choice of Palin as his running mate to be an attempt to reach out to disillusioned Clinton supporters. Palin is the first woman to run on a Republican presidential ticket.
Clinton and Obama engaged in a long and heated battle for the Democratic presidential nomination, one that the McCain campaign has acknowledged throughout the election season. Although former Democratic candidate Clinton has since encouraged her supporters to vote for Obama, many say that his choice of Sen. Joe Biden -- rather than Clinton -- as running mate was an insult.
Warwick, who lives in King of Prussia, Pennsylvania, said she and other female independents are likely to "vote for someone who believes in bringing people together, who does not resort at will to negativism, who understands the far-ranging issues of this diverse nation and the complex realities of a globally independent world."
She added that Palin had little to say about policy and that her speech was full "of smugness and mockery."
Independent voter Sheryl Langdon said Palin appears to have "the heart and spirit of a servant." The Bedford, Indiana, resident said she loved Palin's straightforward talk and sense of humor.
"This is something I get," Langdon said. "I identify with her and her ideals."
Langdon supported Clinton during the presidential primaries. She described herself as an undecided voter who had "been waiting for a champion." McCain's choice of Palin as a running mate won her vote, she said. iReport: Find out why Langdon says McCain 'never has to speak again'
"If you would have come up to me a year ago, five years ago, 10 years ago, and said that you would have supported a Republican ticket ... I would have called you a liar," she said.
Langdon said she looks forward to hearing more from Palin and is now more energized about the rest of the election season. "I'm excited," she said. "How could you not be?"
E-mail to a friend