ST. PAUL, Minnesota (CNN) -- Republicans launched their first night of full-scale conventioneering Tuesday by praising party standard-bearer John McCain's experience and attacking Democratic rival Barack Obama.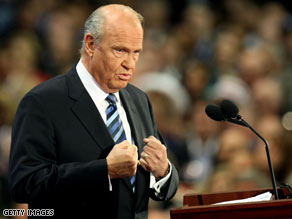 Fred Thompson on Tuesday night lauded John McCain's career as a naval officer and politician.
Republican leaders also strongly defended vice presidential candidate Sarah Palin, the Alaska governor who was McCain's surprise addition to the ticket last week over better-known contenders like former Massachusetts Gov. Mitt Romney and Minnesota Gov. Tim Pawlenty.
Palin has won plaudits from many influential conservatives for her opposition to abortion and her pro-business record.
But Palin has also grabbed headlines for Monday's revelation that her unmarried teenaged daughter is pregnant.
Actor and former Sen. Fred Thompson, who briefly ran for president himself before dropping out in January, gave the speech that most roused the tens of thousands of Republican faithful at the convention. iReport.com: What do you think of the speeches?
"John McCain's character has been tested like no other presidential candidate in the history of this nation," Thompson said, contrasting him with Obama, whom he labeled the "most liberal, most inexperienced nominee to ever run for president."
Of McCain, he said: "It's pretty clear there are two questions we will never have to ask ourselves, 'Who is this man?' and 'Can we trust this man with the Presidency?'"
He recounted McCain's years as a prisoner of war in Vietnam, telling the story of the downed Navy flier's fortitude in the face of physical and mental abuse.
"We hear a lot of talk about hope," Thompson said, a reference to Obama's main campaign theme. "John McCain knows about hope. That's all he had to survive on."
Don't Miss
He praised McCain for advocating an increase in the number of U.S. troops in Iraq "at a point when the war in Iraq was going badly and the public lost confidence ... and now we are winning," he said, prompting chants of "USA! USA!" from the crowd.
Thompson dismissed Obama as all talk, saying, "the Senate has always had more than its share of smooth talkers. And big talkers. And obviously, it still has."

Watch Thompson criticize Obama »
McCain, by contrast, had earned his place in the world, Thompson said.
"The respect he is given around the world is not because of a teleprompter speech designed to appeal to American critics abroad but because of decades of clearly demonstrated character and statesmanship."
Thompson never mentioned Obama by name. The only speaker who did was independent Sen. Joseph Lieberman, a former Democrat who was Al Gore's running mate in 2000 and who has been an vocal backer of his friend McCain this cycle. iReport.com: 'I was moved'
Lieberman, speaking last on the program, prompted boos from the crowd by contrasting McCain and Obama's positions on Iraq, the issue that most separates Lieberman from his former party.
"When others were silent, John McCain had the judgment to sound the alarm about the mistakes we were making in Iraq," Lieberman said. "Colleagues like Barack Obama were voting to cut off funding for our American troops on the ground."
Conventioneers responded with their loudest boos of the night.
Lieberman also argued that Obama did not have McCain's record of working with members of the opposing party.
"In the Senate, during the three-and-a-half years that Sen. Obama has been a member, he has not reached across party lines to accomplish anything significant, nor has he been willing to take on powerful interest groups in the Democratic Party to get something done," Lieberman said.
Harry Reid, the Democratic leader in the Senate, bristled at the tone of the convention address.
"Sen. Reid was very disappointed in Sen. Lieberman's speech tonight," Reid spokesman Jim Manley told CNN. "As the American people have made very clear, the last thing this country needs is another four years of the same old failed Bush-McCain policies of the past."
Lieberman said McCain "is the best choice to bring our country together and lead our country forward."

Watch Lieberman ask voters to "come together for McCain" »
"God only made one John McCain, and he is his own man," Lieberman said to cheers.
First lady Laura Bush undercut Obama's campaign slogan as she praised her husband, President Bush.
"Thanks to the president's Emergency Plan for AIDS Relief, [the] number [of Africans receiving AIDS medication] is now nearly 2 million. You might call that 'change you can really believe in,' " the first lady said.
President Bush spoke to the convention by video link from the White House, where he said he was monitoring the aftermath of Hurricane Gustav.
He mentioned the September 11 terrorist attacks in his endorsement of McCain.

Watch Bush tell delegates McCain is ready to lead »
"We need a president who understands the lessons of September 11, 2001: that to protect America, we must stay on the offense, stop attacks before they happen and not wait to be hit again. The man we need is John McCain," he said.
He also mentioned McCain's time as a prisoner of war, linking it to an explicitly partisan argument.
"Fellow citizens: If the Hanoi Hilton could not break John McCain's resolve to do what is best for his country, you can be sure the angry left never will," he said.
Democrats worked hard during their own convention last week to link McCain to Bush, who has historically low approval ratings. Some pundits have suggested it was a stroke of luck for McCain that Bush was unable to appear in person at the convention.
There were never plans for the two men to appear together.
The last time an incumbent president skipped his party's convention was in 1968, when President Lyndon Johnson stayed at his Texas Ranch while Democrats met in Chicago.
But the Minnesota event was a reminder that Bush remains popular among the Republican faithful.
Kathi Thompson, the wife of a retired Army officer from Hawaii, said whatever you think of President Bush's administration: "He never wavered, and what you see is what you get. You can like it or not, but at least he is a man of conviction."
Liz Tait from Houston, Texas, said "We're extremely proud of him. He kept us safe, and he fought for the values we believe in," she said.
Bush and his wife both praised Palin as well as McCain.
Laura Bush hailed her as "a strong executive and a proven reformer."
"I am proud that America's first female vice president will be a Republican woman," she said.
Fred Thompson called her "a breath of fresh air."
"She is a courageous, successful reformer, who is not afraid to take on the establishment. Sound like anyone else we know?" he said.
"She has run a municipality and she has run a state," he said, an apparent attempt to rebut claims that the 44-year-old, who has been governor for less than two years, did not have enough experience for the White House.
Since her unexpected elevation to McCain's running mate, Palin has won plaudits from many influential conservatives for her opposition to abortion, her pro-business record and her reputation as a reformer.
But she has also grabbed headlines for Monday's revelation that her unmarried teenaged daughter is pregnant, as well as accusations she improperly used her position as governor to dismiss an underling, and the suggestion that she lobbied for pork-barrel spending to benefit the small town she led as mayor.
A gaffe from party leader did underscore Palin's newcomer status, even among Republicans.
Republican National Committee co-chair Jo Ann Davidson mistakenly referred to the vice-presidential candidate as "Sarah Pawlenty," merging her name with the Minnesota governor, who had been considered one of the front-runners for the slot.
Talking about how a woman first addressed a Republican Convention in 1892, Davidson said: "Today, 116 years later, we are holding a convention that will nominate Republican woman Governor Sarah Pawlenty to be the next vice president."
The Obama campaign criticized Republicans more for what they did not say in St. Paul than what they did say.

Watch highlights from the convention »
"At a time when millions of Americans are struggling like never before to pay their mortgage, their medical bills, and their gas bills, tonight's speakers at John McCain's Republican convention proved how out of touch their candidate is by saying not one word about his plans to put our economy back on track and provide real relief to middle-class families.
Apparently, John McCain's belief that we've made 'great progress' economically over the last eight years means he doesn't have to offer any plans at all to fix our ailing economy," said Obama campaign spokesman Tommy Vietor.
The convention roared to life on its second day after a muted start. Planners thought it best to remain low-key on Monday as Hurricane Gustav was ripping across Louisiana.
McCain is due to speak on Thursday, the last night of the convention, to accept the party's nomination.
E-mail to a friend

CNN's Dana Bash and Scott J. Anderson contributed to this report.
All About John McCain • Republican Party • Sarah Palin • George W. Bush