ST. PAUL, Minnesota (CNN) -- With more top 40 hits than Madonna or Billy Joel, rock 'n' roll legend Pat Boone is considered by many as "The Original American Idol." So when the squeaky clean singer-songwriter waltzed into the CNN Grill at the Republican National Convention in St. Paul for a bite to eat, we couldn't resist the opportunity to ask the lifelong conservative how he thinks the race is shaping up and whether he has an apropos song for this year's historic election.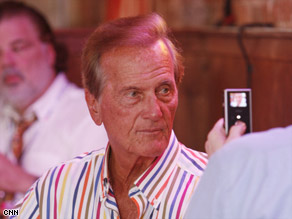 Musician Pat Boone says the McCain-Palin ticket will be a strong one for Republicans.
Here are five questions for Pat Boone.
CNN.com: How is this race shaping up?
Boone: I thought because of the tremendous media adulation problem [over Sen. Barack Obama] and also because George Bush's rating is low that it was like everybody seemed to think it was a slam dunk for the Democrats. And, amazingly, despite all of that adulation, hype and everything else, [Sen. John] McCain is sticking right in there with Obama, and he really hasn't begun his campaign yet. So I have high hopes, and I think the choice of Gov. Palin is great, even with the news today. Because she is living her principles, and so is her daughter. These things can happen in any family, and thank God it didn't happen in ours, but it could have. Here's somebody in a party that is living its principles and not trying to whitewash anything.
CNN.com: What do you think of the McCain-Palin ticket?
Boone: Very strong. ... Sen. Obama, I think, showed his lack of judgment by not choosing the best-qualified woman that he could have chosen as his running mate, one who had already proven able to get 18 million votes. He passed, and he took Joe Biden, who has been in the Senate longer than McCain, which doesn't bespeak change. Meanwhile, McCain chooses a highly qualified, attractive woman, and I think it just shows that the "Big O," or, as I like to think, the "Big Zero," has missed his golden chance. I think he will lose because of this.

Watch Boone discuss Obama »
Don't Miss
CNN.com: Is it a good idea for Hollywood to get mixed up in politics?
Boone: I think it is as long as whoever the entertainer is -- a citizen like anybody else -- does think through what he's going to say or what he's going to support. He or she. To just use celebrity to push some trendy notion without really thinking it through is not helpful. And, because of that, I don't think that most of the public cares about what an entertainer thinks, including me. But if you're going to voice an opinion, it ought to be considered.
CNN.com: Do you see yourself having a role in a McCain administration?
Boone: I don't see any kind of a role for me. I turned down a chance to run for Congress some time ago because, precisely for the reason I don't support Obama. I could have run an election, I think, for Congress, but then I'd have to do the job, and I didn't know how. So, no, I don't foresee it.
CNN.com: Is there a Pat Boone classic you'd like to play for McCain?
Boone: I wrote and produced a music video which I'm offering to the campaign called "For My Country," the ballad of the National Guard. It is supportive of the troops, supportive of the surge, supportive of McCain who is, whose slogan is "Country First." And the National Guard and our military are winning the battle in Iraq, even though Obama says we did not support it, we're winning.
E-mail to a friend

All About John McCain • Sarah Palin • Republican Party