By Carly Fiorina
Special to CNN
Editor's Note: Carly Fiorina started as a salesperson for AT&T at 25 and eventually became the most powerful woman in American business, according to Fortune. Fiorina stepped down as chief executive of Hewlett-Packard three years ago. She is chairwoman of the Republican National Committee's Victory '08 and is a senior adviser to Sen. John McCain. This is one of a series of commentary pieces on CNN.com from both McCain and Obama supporters attending party conventions. For a view from the Obama campaign, read here.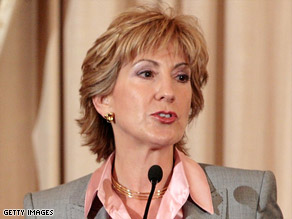 Carly Fiorina says raising taxes during tough times would kill jobs and force businesses overseas.
(CNN) -- As hard-working Americans struggle through the current economic downturn, it is important that voters fully understand the fiscal policies of the two men vying to be our next commander-in-chief.
While John McCain has proposed a clear pro-growth agenda that will jump-start our economy and create millions of jobs, Barack Obama's rhetoric and record suggests he will revert to the failed, big-government policies of the past.
Americans know how to succeed. They need a government that creates an environment to unleash the creativity and ingenuity of the American people to create jobs, not more programs from Washington.
Throughout his Senate career, John McCain has a consistent record of cutting taxes. As president, he will fight efforts to increase the current tax rates, and will require a 3/5 majority vote in Congress to raise future taxes. He will keep the current rates on dividends and capital gains, while permitting businesses to immediately deduct the cost of equipment and technology, a powerful incentive for business expansion and job creation.
He'll also keep America competitive in the global economy by reducing taxes on businesses and giving a tax credit for the hiring of research and development workers. America levies the second-highest business tax rate of any industrialized country. To attract jobs here, that has to change.
John McCain will also provide tax relief for the middle-class families who need it the most. He will protect middle class families from the Alternative Minimum Tax and double the exemption for children and other dependents from the current $3,500 to $7,000. He will also provide relief for families struggling with high gas prices by suspending the Federal gas tax.
Barack Obama has very different proposals regarding taxes. Despite the current economic uncertainty, he has proposed a variety of tax increases, including hikes on income taxes, capital gains taxes, dividend taxes and Social Security taxes. See where McCain and Obama stand on economic issues
During his short time in the United States Senate, Obama has already voted in support of higher taxes 94 times. This is consistent with his record in the Illinois State Senate, where he supported hundreds of tax increases on businesses and families. In spite of his rhetoric about only raising taxes on the "rich," Obama has actually voted to increase taxes on people earning just $42,000 a year.
The specifics of the Obama tax increases have changed radically during the campaign, raising the question of what he would actually do if he became president. There is no surer way to kill jobs and force American businesses overseas than to increase taxes during tough economic times.
In addition to keeping our taxes low, our next president must rein in the out-of-control government spending of recent years. Wasteful spending in Washington has gone from irresponsible to indefensible.
Throughout his Senate career, John McCain has upset members of both political parties with his firm opposition to earmarks and pork-barrel spending. In fact, McCain has never asked for nor received a single earmark, and as president, will veto every bill laden with personal pet-projects.
He will also fight for the line-item veto, a vital tool in targeting last-minute earmarks tacked onto spending bills. In contrast, as a United States Senator, Barack Obama has requested more than a billion dollars in earmarks, or, a million dollars for each day he has been in office. Obama has also proposed $863 billion in new spending proposals.
Perhaps no issue affects the American economy more right now than record-high gas prices and our reliance on foreign oil. John McCain will put us on the path to total energy independence by 2025 through an all-of-the-above approach that combines new production here at home -- including offshore drilling -- as well as the development of alternative sources of energy, such as nuclear power and clean coal technology.
Barack Obama claims he wants energy independence, but he opposes every possible solution to break free of foreign oil and bring gas prices down. Obama opposes new offshore drilling at home and has derided nuclear power.
Obama has called for a windfall profits tax on oil companies that, when last attempted under the Carter Administration, only led to higher gas prices, more dependence on foreign oil, and more pain at the pump for American families.
When it comes to the economy, John McCain believes that government should stand on the side of Americans, not in the way. America's greatness lies not in the strength of its government, but in the creativity, ingenuity and hard work of its people.
John McCain will strengthen the economy by keeping taxes low, eliminating wasteful government spending and breaking the stranglehold of foreign oil. While Barack Obama's shifting rhetoric makes it difficult to understand his intentions, one thing is clear: He will raise taxes.
Obama has promised to raise taxes on personal incomes, capital gains, payroll income and energy sources, all of which will adversely affect our economy. His record regarding earmarks and spending is equally troubling. With an uncertain economy, the stakes couldn't be higher and the contrast couldn't be clearer.
The opinions expressed in this commentary are solely those of the writer.
E-mail to a friend

All About National Economy • Taxes • Barack Obama • John McCain