DENVER, Colorado (CNN) -- Sen. Edward Kennedy -- recuperating from recent brain surgery -- made a dramatic appearance at the Democratic National Convention on Monday night, pledging to see Barack Obama to the White House and his own return to the Senate floor.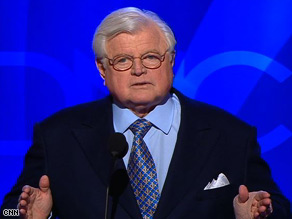 Sen. Edward Kennedy makes his second public appearance since his surgery for a brain tumor in June.
"I have come here tonight to stand with you to change America, to restore its future, to rise to our best ideals and to elect Barack Obama to the presidency of the United States," Kennedy said to a standing crowd.
"Together we have known success and seen setbacks ... but we have never lost our belief that we are all called to a better country and a newer world," he said. "I pledge to you that I will be there next January on the floor of the Senate."
His brief speech marked only the second time he has been seen in public since undergoing surgery for a brain tumor on June 2.

Watch the crowd roar for Kennedy »
Kennedy's Monday night appearance came at his own insistence, over the advice of associates worried about the effects on his health, a Democratic source close to the Kennedy family said.
The 76-year-old liberal icon was "itching to go and pushing back" at those who said the trip was too risky to make, the source said.
Don't Miss
With the exception of one dramatic return to the Capitol for a crucial vote, he has been out of the public eye recuperating.
"Nothing, nothing is gonna keep me away form this special gathering tonight," he told the crowd.
He compared Obama, the presumptive Democratic presidential candidate, to the late president.
"We are told that Barack Obama believes too much in an America of high principle and bold endeavors," Kennedy said. "But when John F. Kennedy thought of going to the moon, he didn't say, 'It's too far to get there -- we shouldn't even try.'
"Our people answered his call and rose to the challenge, and today an American flag still marks the surface of the moon."
He added: "This November, the torch will be passed again to a new generation of Americans. So, with Barack Obama and for you and for me, our country will be committed to his cause. The work begins anew. The hope rises again. And the dream lives on." iReport.com: Share your reactions to DNC speeches
Kennedy's speech was preceded by an appearance by his niece, who paid tribute to him and Obama.
"Their stories are very different," said Caroline Kennedy, daughter of John F. Kennedy. "But they share a commitment to the timeless American ideals of justice and fairness, service and sacrifice, faith and family. Leaders like them come along rarely. But once or twice in a lifetime, they come along just when we need them the most."
E-mail to a friend

All About Edward M. Kennedy • Caroline Kennedy • Barack Obama • John F. Kennedy