By Mark Preston
CNN Political Editor
DENVER, Colorado (CNN) -- Sen. Barack Obama, who chose a foreign policy expert with roots in Pennsylvania and an appeal to blue-collar voters as his running mate, wasted little time explaining his decision Saturday.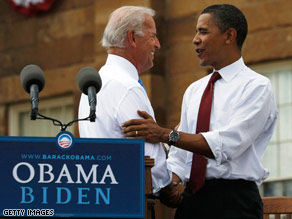 Barack Obama announced Saturday that Joe Biden will be his running mate.
In choosing Sen. Joe Biden, Obama got what he described as a "scrappy kid from Scranton" -- a battle-tested politician whose job will be to help fill perceived gaps in Obama's résumé and serve as Sen. John McCain's chief critic.
Biden wasted no time in taking jabs at McCain after being introduced by Obama at the rollout ceremony in Springfield, Illinois.
But Biden delivered the blows in classic "Joe style," saying McCain is "genuinely a friend of mine" and noting that the Arizona senator "served our country with extraordinary courage."
Then Biden unloaded on McCain, accusing him of giving "in to the right wing of his party" and then taking a dig at him for owning several homes.
Biden said he has known McCain for 35 years -- enough time to know the good and bad about his "friend." The unanswered question is whether McCain's Senate colleague -- turned Obama's running mate -- will continue to amp up the criticism.
An Obama aide says that Biden will be charged with helping to explain to the "American people where Obama comes from, and what his vision is for the country," as well as lay out "the choice in this election."

Watch more on Biden and the road ahead »
While Obama talks about running a 50-state campaign, Biden is likely to be a frequent visitor to Ohio, Pennsylvania and Michigan, where his Irish heritage, Catholic religion and lunch pail appeal could play well with skeptical voters: Reagan Democrats and Hillary Clinton supporters.
Biden and Obama won't go unchallenged.
Within hours of CNN breaking the news early Saturday that Obama had chosen Biden, the McCain campaign released an ad highlighting Biden's criticism of Obama. The 30-second spot features an August 2007 Democratic primary debate during which Biden was asked if he stood by his criticism that Obama is not yet ready to be president.
"I think that I stand by the statement," Biden responded.

Watch more on the new VP candidate »
The ad closes with Biden praising McCain, saying, "I would be honored to run with or against John McCain, because I think the country would be better off."
The Obama aide dismissed the Biden comment, saying "there may have been nuances and points of disagreement," and sought to highlight the sparring between McCain and Mitt Romney, who is said to be on McCain's vice presidential shortlist.
But McCain hasn't picked Romney yet, and even if he does, an aide for the Arizona Republican said to expect to see that clip run through November 4.
"It doesn't matter who we pick; there isn't going to be any footage or any video of John McCain's running mate saying that they would be honored to support Barack Obama for president because the country would be better off," the aide said.
McCain called Biden on Saturday congratulating him on being selected as Obama's running mate -- the kind of call made between "friends."
Don't expect any more calls until a winner is declared in November.
E-mail to a friend

All About Barack Obama • Joseph Biden