(CNN) -- With the Democratic convention just a week away, the countdown is on for Sen. Barack Obama to make his VP announcement.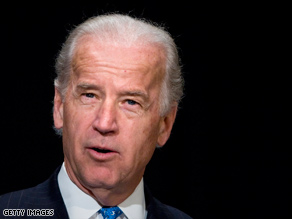 Sen. Joe Biden is considered a top VP contender because of his foreign policy credentials.
While there is a chance Obama could wait until the convention to announce his pick, he's expected to end the guessing game this week.
Obama's campaign says that when the senator from Illinois makes up his mind, an alert will be sent to supporters via e-mail and text messages.
The presumptive Democratic nominee hasn't dropped any hints about who's on his shortlist, but several people stand out as likely contenders for the No. 2 spot.
Obama on Monday is campaigning in New Mexico, Gov. Bill Richardson's home state. Richardson is considered a good pick because he could help bring in support from the Latino community.
But Richardson didn't endorse Obama until late in the game, and he didn't get very far in his own White House run.
Also in the spotlight is Sen. Joe Biden. He returns Monday from a trip to the former Soviet republic of Georgia, made at the request of the country's president.

Watch more on Biden's chances in the VP race »
Biden, a senator from Delaware and chairman of the Senate Foreign Relations Committee, brings to the table top-notch experience that would help counter GOP arguments that Obama is inexperienced on foreign policy.
But Biden's state has just three electoral votes, which are safely in the Democrats' column. See the pros and cons of VP contenders
Biden, Richardson and Indiana Sen. Evan Bayh are scheduled to speak at the Democratic convention next Wednesday -- the same night that the vice presidential candidate is slated to speak.

Watch more on Obama's process for making his decision »
A former governor, Bayh is a Midwest moderate and a popular figure in Indiana, a Republican stronghold. His service on the Senate Intelligence and Armed Services committees could help shore up Obama's weak spots.
Some liberals, however, could have a tough time with Bayh because of his support for a ban on "partial-birth" abortions, a term that some abortion rights opponents use to refer to a type of late-term abortion.
Another contender, Gov. Tim Kaine of Virginia, has yet to receive a speaking slot at the convention. Obama also has events scheduled in Virginia on Wednesday and Thursday.
Kaine could help Virginia fall in the Democrats' column for the first time in 44 years, but the Virginia governor would not bring much foreign policy experience to the table.
Plus, another Virginian -- former governor and Senate candidate Mark Warner -- is the keynote speaker Tuesday night. Virginia will be a major battleground come November, but would the Democrats pick Virginians to headline back-to-back nights at the convention?
The VP buzz has dwindled for some others who were once considered top contenders. iReport.com: Who would you pick as VP?
Hillary Clinton is likely to place her name in nomination, and she's set to give a speech on the second night of the convention. While the schedule could always change, it's not likely that she'll be Obama's pick.
Kansas Gov. Kathleen Sebelius has been rumored to be a potential pick, but if Obama chooses a woman, and it's not Clinton, he could burn bridges with his former rival's supporters. She's also on the schedule for a Tuesday night speech.
Obama could always throw out a surprise -- retired Gen. Wesley Clark, Connecticut Sen. Chris Dodd, Texas Rep. Chet Edwards, Nebraska Sen. Chuck Hagel, former Georgia Sen. Sam Nunn, Rhode Island Sen. Jack Reed and Pennsylvania Gov. Ed Rendell all stand a chance to be a dark horse pick.
Meanwhile, on the Republican side, Sen. John McCain still has some time before he needs to announce his pick. The Republican convention is the week following the Democratic convention.
Likely contenders for McCain's No. 2 spot include Florida Gov. Charlie Crist, Louisiana Gov. Bobby Jindal, Minnesota Gov. Tim Pawlenty, former Homeland Security Secretary Tom Ridge and former Massachusetts Gov. Mitt Romney.
Democrats meet August 25-28 in Denver, Colorado, and the Republicans convene September 1-4 in Minneapolis-St. Paul, Minnesota.
E-mail to a friend

CNN's Alan Silverleib contributed to this report.
All About U.S. Presidential Election • Democratic Party