From Jessica Yellin
CNN Correspondent

WASHINGTON (CNN) -- There's a new book out about Barack Obama that some say is riddled with pretty much every unsubstantiated rumor you've ever heard about the Illinois senator.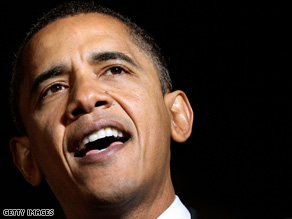 The author of a new book says he seeks to expose Sen. Barack Obama.
It is called "Obama Nation: Leftist Politics and the Cult of Personality." The author, Jerome Corsi, also co-wrote the book "Unfit for Command," which started the swift boating of Sen. John Kerry in the 2004 presidential election.
Corsi admits he's on a mission to take down Obama. He's been criticized for books that he's written before that have been discredited in many circles.
"Here I'm saying clearly I oppose Barack Obama. And the book is designed to lay this information out and let the American public decide," he told CNN's Larry King on Wednesday.
The big danger for the Obama campaign: The claims could go viral. True or not, scandalous allegations have a way of spreading and sticking if they're not aggressively refuted.
In the Swift Boat Veterans For Truth attacks of 2004, veterans took to the airwaves to dispute Kerry's military record.
Corsi's new book alleges that Obama is on the extreme left of American politics, and has extensive connections to Islam and with radical racial politics.
Don't Miss
"He was registered as a Muslim. The documentation -- I thoroughly researched it from the Indonesian newspapers and Indonesian television. He attended mosque with his stepfather," he said on CNN's Larry King Live on Wednesday night. "The friends who were in school with him attest that he was then considered a Muslim. And that's the testimony of the people in Indonesia who grew up in those six years."

Watch more of the interview »
In response, Obama's "Fight the Smears" Action Wire e-mail alert sent the following Thursday:
"Right now, vile smear-peddler Jerome Corsi is back with a new book of lies -- this time about Barack Obama. ... We'll need the combined efforts of every member of the Action Wire to push back against this year's vicious Republican attack book."
"Together we'll show Corsi and the right-wing smear machine that we won't back down from a fight," the wire adds.
Obama, for months, has said he has never been Muslim, and is of Christian faith.
"If you get one of these e-mails that says I'm a Muslim, not true, that -- never been a Muslim. ... This is just stuff that is designed to make people suspicious," Obama has said.
The book includes lines that some might consider racially insensitive, such as, "Obama's mother chose another Third World prospect for her second husband, a second man of color, to be her mate."
Obama supporters say Corsi has been discredited. In 2004, The Associated Press verified he posted comments on a conservative Web site describing Islam as a religion in which the "boys are buggered and the infidels are killed," and calling Pope John Paul II "senile."
Corsi says he long ago apologized for those insensitive postings online and insisted he's not a racist. He defended his credentials:
"I stated they were not written to express my true views. They were intentionally written to be antagonistic or aggressive or provocative. The Catholic Church, I'm a good member. I was born and raised in the Catholic Church," he said. "You can't take a few quips that I've wrote that I've apologized for -- that should not have been written -- and I have not done again -- to be representative of my beliefs and writing. "

Watch Larry King discuss the Corsi interview »
Campaign supporters say that's reason enough to dismiss the book.
"I don't think anybody's going to take Jerome Corsi all that seriously, once they learn who this guy really is. Even people on the right wing haven't associated themselves with him, because of some of the pretty bigoted and outrageous things he's said in his career," said Democratic strategist Jamal Simmons.
Paul Waldman, a senior fellow for Media Matters for America, blasted the book for its "falsehoods."
"Now, four years later, he has come out with another book that is also riddled with distortions and falsehoods. So the question is, why on earth would anyone listen to what he has to say about Barack Obama?" he told Larry King on Wednesday.
In a heated exchange with Corsi, Waldman said his group has made a point of taking down the accusations in the book.
"You're spreading this incredibly vicious innuendo. ... Much of what Mr. Corsi has written is just plain false. ... What we [Media Matters for America] do is we have gone through the book and we have documented the falsehoods one after another after another. ... " he said.
Corsi charged back: "This is typical Media Matters. They bring you on the show and they bait you up, don't give you a chance even to respond. "
The author also insists that he targets both Democrats and Republicans -- including Sen. John McCain.
"I've written against John McCain very strongly for the last four years on his immigration policy. I wrote a series of articles in 'World Net Daily' of John McCain's connections with George Soros. The book is not written to support John McCain. I am Constitution Party. I make it very clear in the introduction I'll be voting for Chuck Baldwin of the Constitution Party."
Corsi says all the controversy shows that the Obama campaign is "afraid for people to read this book."
"This book is a legitimately published book. It's published with the investigative research in this book that is not being touched here. All that's happening is I'm getting called names. ... It's an ad hominem attack," he added.
The Obama campaign, through a spokesman, told CNN that the book is nothing but lies that have been discredited. The campaign said that Corsi wrote a similar book to get President Bush and Vice President Dick Cheney re-elected, and that this is just an attempt to continue that four years later.
E-mail to a friend

CNN political producer Ed Hornick contributed to this report.
All About Barack Obama • Swift Boat Veterans for Truth