By Keating Holland
CNN Polling Director
WASHINGTON (CNN) -- If Sen. Hillary Clinton's name is placed in nomination in Denver, Colorado, this year, it wouldn't be the first time that a candidate was beaten in the primaries and still formally contested the nomination at the convention.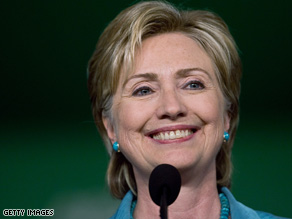 Sen. Hillary Clinton can win votes from delegates at the convention even if her name isn't placed in nomination.
But it would be the first time in the modern era of presidential primaries that a losing candidate has so visibly endorsed an opponent so many months before the convention, and then gone on to have his or her name placed in nomination.
Clinton can still win votes from delegates at the Democratic National Convention even if her name is not placed in nomination. Delegates are free to vote for anyone they want to at the convention.
At past conventions, delegates have even been known to vote for fictional characters (Archie Bunker) and dead people (George Orwell).
It's likely that Clinton will pick up some votes unless Sen. Barack Obama is nominated by acclamation.

Watch more on the Democrats' pursuit of unity »
But the buzz is that Clinton may take it a step further and have her name formally placed before the convention, complete with nominating speeches, seconding speeches and all the hoopla they produce. Such a move hasn't happened at either party's convention since 1992, when former California Gov. Jerry Brown had his name placed in nomination after losing the race to Bill Clinton in the primaries.
It was a lot more common in the early days of the modern primary era. In 1972 (the first year when primaries, not conventions, determined the nomination), six losing candidates had their names placed in nomination at the Democratic convention.
In 1976, three unsuccessful candidates (including Brown) were placed in nomination at the Democratic conclave.
It didn't happen at all in 1980. (Sen. Edward Kennedy, who ran against President Carter in the primaries, didn't place his name in nomination; Rep. Ron Dellums of California, who was not a candidate in the primaries, did.) Former Vice President Walter Mondale's two main opponents in the 1984 primaries -- the Rev. Jesse Jackson and Gary Hart -- both went through the process that year, and Jackson did it again at the 1988 convention after losing to Michael Dukakis in the primaries.
Overall, between 1972 and 1992, 10 Democratic candidates who lost the nomination in the primaries went on to have their names formally placed in nomination at the convention. Significantly, however, none of them publicly endorsed their opponent months before the convention, as Clinton did in June. iReport.com: Should Clinton be on the ticket?
The closest examples are probably Hart and Jackson, who used their face time at the 1984 convention to call for party unity and make some grudgingly positive comments about Mondale. That didn't stop either of them, however, from planning last-minute attempts to force the convention to go to a second ballot in the hopes of halting the Mondale bandwagon.
Neither man formally endorsed Mondale before the Democrats met in San Francisco, California, that year. But while there is no historical precedent for endorsing a candidate and then formally seeking the nomination at the convention, there is no party rule against it.
Delegates pledged to support Clinton based on primary results are free to do so even if her name is not placed in nomination, and Clinton herself is free to seek the nomination at the convention as long as she has a minimal amount of support from the delegates.
What can happen is determined by the party rules. What will happen? Stay tuned.
E-mail to a friend

All About Hillary Clinton • Barack Obama • Democratic Party