From Elaine Quijano
CNN White House Correspondent
BEIJING, China (CNN) -- While playing the role of fan-in-chief, President Bush mixed diplomacy and sports as he wrapped up his trip to Asia on Monday.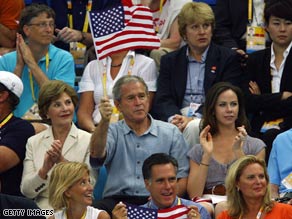 President Bush, Laura Bush and their daughter Barbara watch Olympic swimming races Sunday.
While visiting Beijing, China, for the start of the Olympic Games, much of the president's attention was focused in the intensifying conflict between Russia and Georgia.
Bush pressed Vladimir Putin, the Russian prime minister, to accept a cease-fire when the two leaders were in Beijing, saying, "this violence is unacceptable."
"I was very firm with Vladimir Putin -- he and I have got a good relationship -- just like I was firm with the Russian president," Dmitry Medvedev, Bush told NBC on Sunday.
"I expressed my grave concern about the disproportionate response of Russia and that we strongly condemn, you know, bombing outside of South Ossetia," Bush said, referring to the region in Georgia that has seen some of the heaviest fighting. "It was just interesting to me that here we are, trying to promote peace and harmony, and we're witnessing a conflict take place."

Watch Bush condemn the bombing in Georgia »
But the president also had time to show his support for America's Olympic athletes over the weekend. He attend the U.S.-China basketball game, congratulated swimmer Michael Phelps for winning his first Olympic gold medal and hit the beach volleyball court.
Don't Miss
But even in these informal settings, the president made time for business. At the men's basketball game, he chatted with China's foreign minister; and during a break in the action, he consulted with former Secretary of State Henry Kissinger.
Human rights advocates criticized Bush for going to China during the Olympics, saying the presidential visit rewarded a country that is often criticized for having a poor human rights record.
But Bush's Olympic diplomacy sent a clear message: While relations are complex, the United States must remain engaged with China, a rising global power.
"In the long run, America better remain engaged with China and understand that we can have a cooperative and constructive, yet candid, relationship," Bush told NBC. "It's really important for future presidents to understand the relationship between China and the region, and it's important to make sure that America is engaged with China, even though we may have some disagreements."

Watch Bush push for close ties with China »
While saying, "I don't need the Olympics to advance America's agenda," the president said he pressed Hu Jintao on a number of issues during his formal meeting with the Chinese president, including human rights and the nuclear programs of North Korea and Iran.
He also prodded Hu on religious freedom.
"As you know, I feel very strongly about religion, and I am so appreciative of the chance to go to church here in your society," Bush said.
E-mail to a friend

All About George W. Bush • China • Republic of Georgia • Summer Olympics