By Keating Holland
CNN Polling Director

WASHINGTON (CNN) -- Does a candidate's selection of a running mate improve his standing in the polls? In other words, is there a "veep bounce"?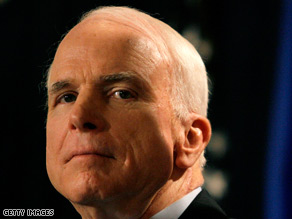 Will Sen. John McCain's vice presidential choice result in a bounce in the polls?
There is a bounce, but what goes up often comes down.
For many years presidential candidates picked their running mates during the conventions, so any potential "veep bounce" was just part of a bigger "convention bounce."
But six times in the past few decades, the running mate has been chosen before the convention -- giving pollsters enough time to measure the effect that the vice presidential choice had on the race, separate from any later bounce the convention might provide.
Sometimes the veep bounce is pretty modest. Based on the best data available at the time, Walter Mondale's pick of Geraldine Ferraro in 1984 appears to have netted him three points in his race against Ronald Reagan. The choice by John Kerry of John Edwards gained him just two points in 2004.
Both Mondale and Kerry lost those modest "veep bounces" by convention time.
Three choices -- Dick Cheney and Joe Lieberman in 2000 and Jack Kemp in 1996 -- produced more robust bounces.
Don't Miss
Lieberman and Kemp both boosted their ticket by eight points; George W. Bush netted a six-point gain after his choice of Cheney became public knowledge, but had lost half of that by the time his party's convention started. Al Gore lost three points of the bounce his choice of Lieberman gained by convention time.
Bob Dole's 1996 choice of Kemp was just two days before his party's conclave so there was no time for the bounce to fade before the convention bounce started.
One vice presidential bounce stands out: The best polling evidence available from 1992 suggests that Bill Clinton gained up to 11 points by choosing Gore.
That choice kick-started the Democrats' convention bounce that year, and Clinton, who had been polling in the 30s before he picked Gore, never looked back.
What causes a veep bounce?
Some of it is because a running mate selection will dominate the news for several days. But the selection of a running mate also makes an untested candidate look presidential for the first time.

Watch more on the vice presidential speculation »
It's the first executive decision a candidate usually makes and it gives him the chance to look like a party leader rather than a guy who happened to win a bunch of primaries.
Kemp said it best when he acknowledged Dole as "the quarterback" after Dole named Kemp.
The public views a candidate as the leader of a team for the first time. Sometimes they like what they see, sometimes not. But they always see him in a new light, and that's apparently been a big help to many presidential candidates.
Does a veep bounce mean that running mates help determine the outcome of the election in November? Certainly not -- that's the nature of a bounce.
In past years, the vice presidents and wannabes have mattered in July or August. Then the conventions, debates, and the twists and turns of the fall campaign turn attention back on the candidates at the top of the ticket.
What can we expect this year? Some of that depends on who Sens. Barack Obama and John McCain pick, but much will also depend on timing.
A veep bounce too far before the convention has tended to drop two to three points. But a veep bounce can also be the building block of a convention bounce -- if the choice is withheld until just before the convention.
But there's another school of thought: Maybe the era of bounces is over.
In the 2004 election, convention bounces and veep bounces were miniscule or nonexistent. That suggests that the picks by Obama and McCain might not produce the same boost in support that we have seen in the past.
If the 24/7 news cycle and barrage of advertising from both sides have made most Americans choose sides already -- or just made them sick of the whole process -- even big stories like naming a running mate might not change many voters' minds.
E-mail to a friend

All About John McCain • Barack Obama