By Mark Preston
CNN Political Editor

WASHINGTON (CNN) -- Kentucky Sen. Mitch McConnell blames challenger Bruce Lunsford for the increase in the state's gas tax. Michigan Rep. John Dingell pledges to stop price gouging and rein in energy speculators.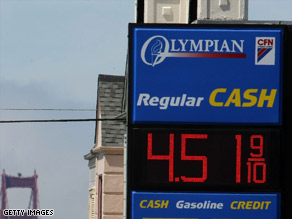 Candidates are frequently using images of gas stations in campaign ads this year.
And Oklahoma Corporation Commission candidate Rob Johnson expressed empathy for families feeling pain at the pump.
It is not just Sens. John McCain and Barack Obama who are trying to convince voters this year that they have the answers to ease the nation's reliance on foreign oil.
Candidates down the ballot as well as third-party interest groups are taking to the airwaves to offer their own energy plans or to try to discredit opponents in slickly produced 30- and 60-second campaign commercials.
There is no question that this is an energized election.
In the past eight months, $192 million has been spent on political TV ads that feature oil fields, gas stations and wind farms, according to an analysis conducted for CNN by TNSMI/Campaign Media Analysis Group. See gas prices nationwide »
"The defining issue of the 2008 elections has been the high cost of energy and the battle of ideas for energy policy in the decades to come," says Evan Tracey, CMAG's chief operating officer and consultant on political TV ad spending. "Whether you are running for commander-in-chief or corporation commissioner, one thing is the same: Your message has something to do with energy."

Watch how ads are using the energy crisis as an issue »
Energy ties right into the biggest concern on Americans' minds right now: the economy, otherwise known as Issue No. 1.
Fact Box
Spending on energy-related political TV commercials aired by candidates and third-party issue advertisers, January 1 to August 3, 2008:
• Federal level: $175 million
• State level: $15.3 million
• Local level: $1.7 million

Source: TNS Media Intelligence/Campaign Media Analysis Group for CNN
When voters head to the polls in November, many of them will be voting with their wallets. And no wonder. A July CNN/Opinion Research Corporation Poll showed that 75 percent of Americans say that rising gas prices are causing them a hardship.
So when a band of Republicans decided to stay behind and deliver speeches from a darkened House floor this week, it probably made sense for them, at least politically.
The July poll showed that only 31 percent of Americans held congressional Democrats responsible for high gasoline prices, while 54 percent blamed the Bush administration. iReport.com: Share your thoughts on the energy crisis
With less than 90 days until Election Day, Republicans need to convince more voters that congressional Democrats are to blame for skyrocketing energy costs if they hope to score political points on this issue.
The GOP does have a hook: Republicans and nearly 70 percent of Americans -- according to the July CNN poll -- agree that there should be more offshore drilling. Opening up coastal waters to more drilling is a position that has yet to be embraced by Democratic leaders.
But is offshore drilling a big enough issue to greatly influence the election? Probably not.
Don't Miss
Still, energy will continue to be a major theme in the 2008 elections. And the candidates and their political consultants recognize that.
"Media consultants have jettisoned their stock footage of soldiers in Iraq, decaying classrooms and assault rifles," Tracey says. "This is the energy election."
Only time will tell if candidates are successful in using the airwaves to explain their positions on energy. But Johnson, the corporation commission candidate in Oklahoma, will have to wait until the next election. He lost in the Republican primary last month.
E-mail to a friend

All About Elections and Voting • Energy Policy • Oil Prices