(CNN) -- After a string of ads attacking Barack Obama, John McCain has hit the airwaves with a television spot that looks to show his independence from the current administration.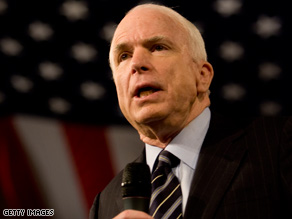 Sen. John McCain has a new ad out that looks to highlight his maverick roots.
The ad calls attention to McCain's maverick roots and tells voters the nation is "worse off than we were four years ago."
"Washington's broken. John McCain knows it. We're worse off than we were four years ago," the announcer says in the 30-second spot.
"Only McCain has taken on big tobacco, drug companies, fought corruption in both parties. He'll reform Wall Street, battle Big Oil, make America prosper again. "
"He's the original maverick. One is ready to lead -- McCain."
The ad does not mention Obama by name, but in a spot released last week, McCain questioned Obama's ability to lead. That ad called Obama "the biggest celebrity in the world," but asked, "Is he ready to lead?"
Obama's campaign slammed the new ad and reiterated its charge that McCain and Bush are one and the same.
"The truth is, being a maverick isn't practicing the same kind of politics we have seen from Washington for decades. It isn't having a campaign run by Washington lobbyists, and it's certainly not promoting the same policies that have led America down the wrong path these past eight years," said Obama campaign spokesman Bill Burton.
At a campaign stop in Youngstown, Pennsylvania, on Tuesday, Obama furthered his criticism of McCain and told voters the senator from Arizona offers "four years more of the same failed policies that have gotten us where we are."
"In this election, Sen. McCain has proposed an energy plan that's nothing but four years more of the same," Obama said.
Obama was touting his energy plan, which he unveiled Monday in Lansing, Michigan.

Watch more on the candidates' energy policies »
Obama has called for tapping into strategic oil reserves, using a windfall profits tax on big oil corporations to provide a $1,000 rebate to people struggling with high energy costs and eliminating the need for oil from the Middle East and Venezuela within 10 years. Read more on Obama's energy plan
He's accused McCain of being "in the pocket" of big oil corporations and on Tuesday charged that McCain took a page out of "the Cheney playbook" when it comes to energy policy.
Vice President Dick Cheney played a key role developing the energy plan that Obama said favored tax breaks for big oil.
However, McCain on Tuesday said that Obama must be "a little confused."
"I voted against it. He voted for it," he said.
House Speaker Nancy Pelosi weighed in on the oil debate Tuesday, calling McCain's legislative record into question.
"Sen. McCain wants to call Congress back into session to vote on 'drill only' proposals that he knows full well will not provide immediate relief to consumers, and yet he was absent from the Senate during critical votes to cut subsidies for Big Oil, help consumers and promote renewables and conservation," she said in a statement.
"John McCain could have been the deciding vote in favor of key energy initiatives, but instead he decided to stand by Big Oil. Sen. McCain's absent leadership on energy independence doesn't match his rhetoric."
During the primary season, Obama defended his vote on what opponent Sen. Hillary Clinton called the "Dick Cheney energy bill," saying, "it was the best that we could do right now, given the makeup of Congress."
McCain is in favor of exploring options for new offshore drilling, as well as looking to the nuclear power industry for solutions to the energy crisis.
McCain on Monday called on Congress -- and Obama -- to get back in session to vote on an energy bill that would allow for offshore drilling.
Congress adjourned Friday for its annual five-week recess.
"Is there anybody as tired of paying ... $4 a gallon for gasoline? Is there anybody sick and tired of it? Is there anybody that wants to become energy independent?" McCain said in Sturgis, South Dakota, as he chided Congress for going on vacation.

Watch McCain greet bikers, veterans in Sturgis »
"Tell them to get to work! When I'm president of the United States I'm not going to let them go on vacation. ... We're not going to pay $4 a gallon for gas because we're going to drill offshore, and we're going to drill now. We're going to drill here. We're going to drill now."

Watch McCain fire back on energy »
The candidates' energy plans have dominated the campaign trail in recent days as Americans deal with high energy costs.
Meanwhile, with just three months left until Election Day, Obama appears to be holding a slight lead over McCain.
The latest CNN poll of polls shows Obama ahead, 48-43 percent.
The poll of polls consists of four surveys: CNN/Opinion Research Corporation (July 27-29), AP-IPSOS (July 31-August 4), USA Today/Gallup (July 25-27), and Gallup tracking (August 2-4).
E-mail to a friend

All About Energy Policy • Barack Obama • John McCain