WASHINGTON (CNN) -- Republicans on Wednesday pressured congressional Democrats for a vote to lift a ban on offshore drilling before Congress begins its summer recess.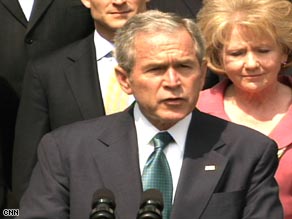 Americans "are counting on Congress to lift the ban" on offshore drilling, President Bush says.
The partisan fight over offshore drilling has stalled efforts to pass legislation meant to lower high gas prices before Congress adjourns for its monthlong break at the end of the week.
Most Republicans want to lift a 1981 ban on offshore drilling, saying it will increase domestic oil supplies. But the Democratic leadership wants to keep the ban in place, arguing that more offshore drilling will have little effect on prices and could threaten the environment.
Republicans also want to legalize drilling for oil in the Arctic National Wildlife Refuge in Alaska and allow the processing of oil shale on public lands in the West -- two actions Democrats also oppose. Oil shale is sedimentary rock with oil in it that has historically been considered too expensive to process. Several environmental risks are associated with extracting oil shale.

Follow the dueling positions on energy policy »
Senate Minority Leader Mitch McConnell, R-Kentucky, said Democrats must allow Republicans to offer amendments that would increase domestic oil production.
"Senate Republicans feel that we both need to find more and use less, and that in order to have ... a piece of legislation that actually passes the Senate, we need to have an open process," McConnell said.
After meeting with his Cabinet on Wednesday, President Bush also called on Democrats to schedule a vote before Congress begins its summer recess.

Watch Bush pressure Congress for a vote »
Don't Miss
"American drivers are counting on Congress to lift the ban, and so are American workers," he said.
House Speaker Nancy Pelosi, D-California, said the president was perpetrating a "hoax" by pushing for more offshore oil drilling.
"The president has failed in his economic policy, and now he wants to say, 'but for drilling in protected areas offshore, our economy would be thriving and the price of gas would be lower,' " Pelosi said. "That hoax is unworthy of the serious debate we must have to relieve the pain of consumers at the pump and to promote energy independence."
Bush accused Democrats of blocking a vote on offshore drilling, but Senate Majority Leader Harry Reid, D-Nevada, had offered a proposal to Republicans that would allow a vote on a measure that would lift the drilling ban.

Watch how the partisan fight has gridlocked Congress »
However, McConnell said Wednesday that Reid had rescinded that offer, which would have allowed Republicans to add up to four amendments to the energy bill being debated.
"In that case, we are going to have a hard time legislating on the No. 1 issue in country," McConnell said.
A CNN/Opinion Research Corp. poll conducted this week suggests the public backs the Republican position on offshore oil drilling. But the poll also shows that the public is split over whether offshore drilling would result in lower gas prices in the next year.
More than two-thirds of Americans say they favor increasing drilling efforts off America's coasts, and 30 percent disapprove of such action. Meanwhile, 51 percent think increased drilling offshore would reduce gas prices, while 49 percent believe it wouldn't. The poll was conducted Sunday through Tuesday and had a sampling error of plus or minus 4.5 percentage points. How should Americans deal with the energy crisis?
Congressional Democrats said they have offered Republicans multiple opportunities to help lower gas prices, including a measure they brought to the Senate floor Wednesday that would extend tax credits to producers of solar, wind and other sources of renewable energy.
"We have heard Republicans expend a tremendous amount of words and energy talking about our national energy crisis. Today, Democrats offer them yet another chance to stop the talking and actually do something to solve the problem," Reid said.
The partisan fight in the Senate has also stalled debate on a bill that would attempt to curb increasing speculation in the oil futures market. Democrats say oil speculation is responsible for 20 to 50 percent of the spike in fuel prices.
House Democrats were unable to pass an oil speculation bill on Wednesday. The bill received a majority vote of 276-151, but the measure failed because it did not get the two-thirds majority required by House rules.
The White House said Wednesday the president would veto the oil speculation bill if it reached his desk. The Commodity Futures Trading Commission already has enough power to stop speculation, the White House said, and the bill would do nothing "to address the fundamentals of supply and demand that bear the primary responsibility for current high energy prices."
Congressional Democrats, including Pelosi, have also called for releasing a small amount of oil from U.S. reserves and putting more pressure on foreign oil cartels.
But Bush opposes releasing oil from reserves and said if Democrats want to tap into the reserves, they should also support measures that lift the drilling ban.
"If you agree that we need more oil, it makes no sense to say you're for draining our nation's limited strategic reserve but against tapping into the vast resources of the outer continental shelf," Bush said, arguing that offshore drilling could produce up to 18 million barrels of oil.
E-mail to a friend

CNN's Ted Barrett, Lisa Desjardins and Deirdre Walsh contributed to this report.
All About Energy Policy • U.S. Senate • Oil Production and Refining