(CNN) -- Sen. Barack Obama said that if he's elected president in November, he will seek input from military commanders on the Iraq war and the fighting in Afghanistan.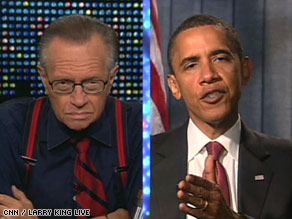 Sen. Barack Obama answers questions from Larry King in a taped interview on Tuesday.
"But ultimately, the buck stops with me," he told CNN's "Larry King Live" in a wide-ranging interview Tuesday.
"I am absolutely convinced that strategically it is time for this [Iraq] war to end," Obama said, adding he believes the United States can withdraw combat troops from Iraq within 16 months while leaving "a residual force to engage in counterterrorism activities" and protect diplomats.
The senator from Illinois said the Afghanistan and Iraq conflicts have worsened because the Bush administration has emphasized war tactics more than an overall strategy.
Obama's Republican opponent in the presidential race, Sen. John McCain, has criticized Obama for proposing plans for Iraq and Afghanistan without recent visits to either war-torn country.
But Obama said Bush and McCain "have missed consistently ... the broader strategies."
"Was it wise to go in there? And what are the costs and benefits of staying there?" Obama said, adding that the Iraq war costs $10 billion each month. "My job as commander-in-chief is to look at the whole picture."
Don't Miss
Obama added: "I want to bring this war to a close, but I do want to consult with our commanders on the ground to find out tactically how do we do it in a safe way and how do we make sure that the gains that have been obtained with respect to violence in Iraq are sustained."
He said, "Perpetuating the strategy we have in Iraq is costing us elsewhere, not only in Afghanistan but also investments that we could be making here at home."
Obama also repeated his pledge to push for the death penalty for 9/11 mastermind Osama bin Laden if he is captured.

Watch Obama talk about his plans to hunt for bin Laden »
"We want to capture him or kill him," he said. "And as I've said -- as I just said this past weekend, if we captured him, then we would want to put him on trial. And I think he would be deserving of the death penalty."
Obama also repeated his pledge that if he were president, U.S. troops would pursue bin Laden into Pakistan if adequate intelligence suggested he was there.
The interview followed an earlier policy address on Iraq, Afghanistan and national security at the International Trade Center in Washington.
On the ongoing housing crisis, Obama seemed to give cautious approval of the government's response to the turmoil surrounding mortgage giants Fannie Mae and Freddie Mac.
"I think some of the ideas that were offered with respect to Fannie Mae and Freddie Mac are good ones," he said. "I just want to make sure that we're not bailing out shareholders and CEOs, but that we're focused on maintaining liquidity in the housing market."
Those comments come the same day Treasury Secretary Henry Paulson was grilled by lawmakers on Capitol Hill over his proposal to provide more government capital to the embattled mortgage firms and possibly acquire more equity in them.
Obama also addressed the New Yorker's cover depicting him in Muslim garb and his wife as an armed militant, saying it is an unsuccessful attempt at satire that will likely fuel misconceptions he has long battled over the course of his presidential campaign.
But he downplayed the impact of the magazine's illustration.
"It's a cartoon ... and that's why we've got the First Amendment," Obama said. "And I think the American people are probably spending a little more time worrying about what's happening with the banking system and the housing market, and what's happening in Iraq and Afghanistan, than a cartoon. So I haven't spent a lot of time thinking about it."
"I've seen and heard worse," he said. "I do think that in attempting to satirize something, they probably fueled some misconceptions about me instead. But that was their editorial judgment."

Watch Obama react to the magazine cover »
The cover, which also depicts a U.S. flag burning in the fireplace and a picture of bin Laden on the wall, drew heavy criticism from both political parties after it circulated on the Internet over the weekend. Both presidential campaigns immediately condemned the magazine, calling the illustration "tasteless and offensive."
David Remnick, the longtime editor of the publication, said Monday he believes the ironic intent of the illustration -- to satirize misconceptions about Obama -- will be clear to most Americans.
E-mail to a friend

CNN's Alexander Mooney contributed to this report.
All About Barack Obama • The New Yorker Magazine • John McCain • Iraq War