(CNN) -- Sens. John McCain and Barack Obama are focusing on the economy Monday and telling voters that they offer the better solution when it comes to creating jobs.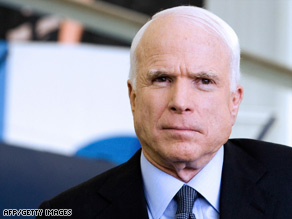 Sen. John McCain on Monday told voters that Barack Obama would raise their taxes.
The emphasis on the economy comes as the Labor Department last week reported a loss of jobs for the sixth month in a row.
According to a CNN/Opinion Research Corp. poll released Monday, 75 percent of Americans now believe the country is in a recession.
McCain, speaking in Denver, Colorado, repeatedly told voters that Obama would make matters worse by raising their taxes.
"The choice in this election is stark and simple. Sen. Obama will raise your taxes. I won't. I will cut them where I can," he said.
McCain maintains Obama's plan to raise taxes for the wealthy would kill job growth, while Obama has said McCain's support of President Bush's tax cuts would be a continuation of the administration's "failed policies."
McCain initially opposed the Bush tax cuts but now favors extending them, while Obama wants to let those expire in 2010 and replace them with a middle-class tax cut.

Watch McCain talk about his economic plan in Denver »
Don't Miss
Families making more than $250,000 could see taxes go up under Obama, while those making less than that amount would not see any raise.
Each candidate has said their rival's tax proposal would damage the economy, but the plans are not as different as they may seem, according to Roberton Williams, principal research associate for the Tax Policy Center.
"In broad brush strokes, McCain would cut taxes essentially across the board relative to current law. And effectively what he would do would be extend the Bush cuts permanently," he said. "Along similar lines, Obama would do the same thing for everybody except the top 3 percent of tax payers, the richest 3 percent."
Obama had scheduled his event Monday in Charlotte, North Carolina, but he instead gave a shortened version of his speech in St. Louis, Missouri, due to technical problems with his plane. Watch what Obama says about the unscheduled landing

Speaking before reporters in St. Louis, he said the United States must invest in research to create and keep jobs at home.
Obama also expressed his support for a second stimulus package he said would provide immediate relief for middle-class families. The Democrat also pushed for universal health care, tougher restrictions on credit card companies and a $4,000 college credit for those who offer community or national service after graduation.
"The first step is to offer immediate relief to families who are struggling right now while helping to jumpstart economic growth and create jobs. Between a sluggish economy and gas prices rising above $4 a gallon, the American people cannot wait another six months for help." he said.
McCain wants job creation to start with small businesses.
"Small businesses are the job engine of America, and I will make it easier for them to grow and create more jobs," he said.
McCain's campaign also is touting his plan to balance the budget by 2013.
"A pledge to balance the budget really speaks to one of McCain's strengths, which has been -- over the years -- his ability to go out and be a deficit hawk; a spending hawk," said Eamon Javers, a financial correspondent for Politico.
But, Javers points out, such a stance could be tricky, taking into account the costs associated with the war in Iraq and the revenue lost from extending Bush's tax cuts.
"Doing both of those things and balancing the budget is going to be extremely difficult for John McCain. He's going to have to go and find some places to cut spending," he said.
McCain has said he plans to cut wasteful spending in government. He slammed the Bush administration and Congress for failing "to meet their responsibilities to manage the government."
"Government has grown by 60 percent in the last eight years. That's simply inexcusable. When I'm president, I will order a stem to stern review of government, modernize how it does business and save billions of dollars. I'll veto every single bill with wasteful pork-barrel spending on it."
Obama on Monday said McCain's plan is "overly ambitious" and lacks specifics. In defending his tax plan, Obama said some statistics McCain cited "just don't add up." He also said McCain's plan could increase the national debt by up to $3 trillion over the next 10 years.
"It's hard to estimate what their plans would do because they're not really well spelled out," Williams said.
His institution estimated the effect of each candidate's plan by presenting each campaign with what they thought the proposals meant, then using that information to develop parameters.
According to that analysis, they found McCain's plan would result in a revenue loss of $3.6 trillion, while Obama's would lead to a revenue loss of $2.7 trillion over the next decade.
Williams points out that no matter how detailed the candidates' plans are, there's no telling how the proposals will play out because Congress will have a say, too.
"So whatever is proposed in the campaign is merely what the president will put down as a marker in January ... and we know Congress, very well, will put their stamp on whatever comes through," he said.
E-mail to a friend

CNN's Kristi Keck contributed to this report.
All About Barack Obama • John McCain • National Economy