WASHINGTON (CNN) -- President Bush on Thursday ordered the lifting of some sanctions against North Korea, a move the administration called "symbolic" and one that leaves many restrictions in place.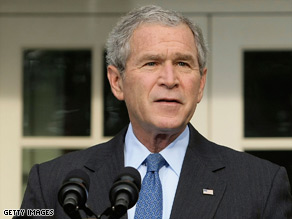 President Bush says Thursday that he has "no illusions" about the North Korean regime.
Bush instructed the State Department to remove North Korea from official U.S. lists of enemies and nations that support terror.
The action came hours after Pyongyang handed over documents about its controversial nuclear program to China, the mediator in six-party talks aimed at denuclearizing the Korean Peninsula.
Bush praised North Korea's long-awaited declaration and efforts to destroy its nuclear facility at Yongbyon, but he also cited many concerns Washington still has.
"The United States has no illusions about the regime in Pyongyang. We remain deeply concerned about North Korea's human rights abuses, uranium enrichment activities, nuclear testing and proliferation, ballistic missile programs and the threat it continues to pose to South Korea and its neighbors," the president said in an early morning appearance at the White House.

Watch as Bush says North Korea must address concerns »
Bush called North Korea's declaration an important step but said it had to continue to cooperate with other nations.
"This can be a moment of opportunity for North Korea. If North Korea continues to make the right choices, it can repair its relationship with the international community -- much as Libya has done over the past few years. If North Korea makes the wrong choices, the United States and our partners in the six-party talks will respond accordingly," he warned.
Don't Miss
But he said the six-party talks were based on the "principle of action for action, so ... the United States is responding to North Korea's actions with two actions of our own."
"The two actions America is taking will have little impact on North Korea's financial and diplomatic isolation," he added. "North Korea will remain one of the most heavily sanctioned nations in the world. The sanctions that North Korea faces for its human rights violations, its nuclear test in 2006 and its weapons proliferation will all stay in effect. And all United Nations Security Council sanctions will stay in effect as well."
Under U.S. law, the president's orders will not take effect for 45 days.
North Korea's declaration should reveal how much plutonium it has produced, which will enable the United States to calculate how large the country's nuclear arsenal could be, said Stephen Hadley, the U.S. national security adviser.
But he said Washington still needed to learn about Pyongyang's previous nuclear activities, especially the production of plutonium, its uranium enrichment and the spread of nuclear know-how to other countries.
"We have concerns about their past activities," he said. "We have made those concerns clear. The North Koreans acknowledge those concerns. That is what is ahead of us."
Sen. John McCain, R-Arizona, the presumptive GOP presidential nominee, called North Korea's declaration "a modest step forward."
"It is only a step covering one part of North Korea's nuclear activities. It is important to remember our goal has been the full, permanent and verifiable denuclearization of the Korean Peninsula. That must remain our goal," McCain said in a statement.
"If we are unable to fully verify the declaration submitted today and if I am not satisfied with the verification mechanisms developed, I would not support the easing of sanctions on North Korea."
Sen. Barack Obama, D-Illinois, the presumptive Democratic nominee, also called the move "a step forward" and noted that "critical questions remain unanswered." He said sanctions should be lifted only if North Korea meets its obligations.
"We should continue to pursue the kind of direct and aggressive diplomacy with North Korea that can yield results," he said in a statement. "The objective must be clear: the complete and verifiable elimination of North Korea's nuclear weapons programs."
Rep. Howard Berman, D-California, chairman of the House Committee on Foreign Affairs, welcomed the president's action but said important steps remained ahead.
"The administration has wisely chosen to assess Pyongyang's sincerity in moving forward with the verification process during the congressionally mandated 45-day waiting period before North Korea can be removed officially from the State Sponsors of Terrorism list," Berman said in a statement.
"You can be sure Congress will also closely monitor North Korea's actions. For now, the ball is squarely in Pyongyang's court."
E-mail to a friend

All About North Korea • Nuclear Proliferation