(CNN) -- An effort to block a wide-ranging overhaul of U.S. wiretapping laws failed in the Senate on Wednesday, with opponents mustering only 15 votes against the bill in a procedural vote.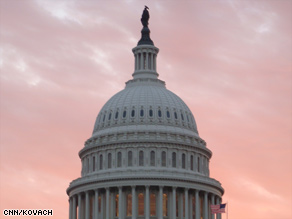 Democrats joined Republicans on Wednesday to push a bill forward for an overhaul of wiretapping laws.
Language that appears likely to let telecommunications companies escape lawsuits over the Bush administration's warrantless surveillance program drew sharp opposition from liberal Democrats such as Wisconsin Sen. Russ Feingold.
Feingold said the bill would be a "get out of jail free" card for companies that went along with a program critics say was illegal, and would give the government sweeping powers to spy on Americans.
"This legislation is going to be remembered as the legislation in which Congress granted the executive branch the power to sweep up all of our international communications, with very few controls or oversight," he said.
Eighty senators, including most Democrats, joined Republicans in voting to move the bill forward. The vote was well beyond the 60 needed to break the threat of a filibuster.
The House of Representatives voted last week to overhaul the Foreign Intelligence Surveillance Act, which requires a secret court to sign off on domestic electronic surveillance in intelligence cases. The law was passed in 1978 in response to Watergate-era wiretapping abuses.
The Bush administration and the bill's supporters argue that modern technology requires that the law be updated to allow intelligence agencies to spy on phone or Internet traffic overseas that might be routed through switches in the United States.
Don't Miss
"As telecommunications technology has changed, intelligence agencies have been presented with collection opportunities inside the United States against targets overseas," said Sen. Jay Rockefeller, the Democratic chairman of the Senate Intelligence Committee. "Yet because of the way FISA was written in 1978, they could not take full advantage of these new opportunities."
Supporters say the new bill requires court oversight of communications intercepts and will prevent future presidents from launching another program like the one the Bush administration acknowledged in 2005.
E-mail to a friend

All About U.S. Foreign Intelligence Surveillance Court • Espionage and Intelligence • U.S. Congress