(CNN) -- Cindy McCain, wife of Sen. John McCain, said Thursday that the spouses of the presidential candidates should be allowed to have some privacy.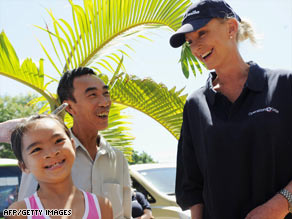 Cindy McCain was in Hanoi, Vietnam, for a humanitarian mission on Thursday.
"I do not think that spouses and family members ... are fair game," she told CNN's John King.
"There has to be some decorum left in politics and in American journalism as well. Our husbands are the candidates," she said.
McCain was in Hanoi, Vietnam, where she was working with an organization that helps children who have facial deformities.
Her husband, the presumptive Republican presidential nominee, spent more than five years as a prisoner of war in Vietnam.
Cindy McCain defended stepping forward after, at a campaign event in February, Michelle Obama said, "For the first time in my adult life, I'm really proud of my country."
Michelle Obama is the wife of Sen. Barack Obama, the presumptive Democratic presidential candidate.
After Michelle Obama's remarks, Cindy McCain told a crowd I "am proud of my country. I don't know about you, if you heard those words earlier -- I am very proud of my country."
She insisted that her response was nothing planned and was instead an "emotional outpouring on my part."

Watch what Cindy McCain says about Michelle Obama »
"I'm an emotional woman when it comes to service to our country. I watched many people's children leave and go serve. This is something that is the fiber of the McCain family. It was nothing more than me just saying I believe in this country so strongly," she said.
McCain praised Michelle Obama, saying she's a "fine woman. She's a good mother. We both are in an interesting line of work right now."
John McCain said last week that every candidate's wife "should be treated with respect, and if there's any disrespectful conduct on the part of anyone, those people should be rejected."
"I have the greatest respect for both Sen. [Barack] and Michelle Obama. ... I've never met her, Mrs. Obama; she's a talented and a very effective person. And I admire both of them," he said.
In an interview with the Christian Broadcasting Network, Barack Obama said he was disappointed that John McCain did not step up when other Republicans launched attacks against his wife.
Last month, the Tennessee GOP put out a Web ad that highlighted Michelle Obama's comments and implied that she is unpatriotic. iReport.com: Do you vote for first lady?
"I think families are off-limits. I would never consider making Cindy McCain a campaign issue. If I saw people doing that, I would speak out against it. And the fact that I haven't seen that from John McCain, I think, is a deep disappointment," he said Wednesday.
The McCain camp quickly fired back, charging that the Democratic National Committee openly criticized Cindy McCain for not including enough information when she released her tax returns.
In a written statement, McCain's campaign said, "Sen. McCain agrees with Sen. Obama that spouses should not be an issue in this campaign, and he has stated that position frequently.
"Unfortunately, when the Democratic National Committee was attacking Mrs. McCain, Sen. Obama was not strong enough to stand up and speak out. Obama's silence speaks volumes, and it's unfortunate that he would single out others for a standard he himself has failed to live up to."
Michelle Obama said Wednesday that she was "touched" when first lady Laura Bush came to her defense.
"There's a reason why people like [the first lady]," Obama said on ABC's "The View." "She doesn't fuel the fire."
Laura Bush told ABC last week that the remarks must have been misinterpreted.
"I think she probably meant 'I'm more proud,' " said the first lady, adding that "you have to be very careful in what you say" when you're campaigning.
"That's one of the things you learn, and that's one of the really difficult parts both of running for president and for being the spouse of the president, and that is everything you say is looked [at] and, in many cases, misconstrued."
E-mail to a friend

All About Michelle Obama • Cindy McCain