WASHINGTON (CNN) -- Senate Republicans on Tuesday blocked a Democratic initiative that would have taxed the windfall profits oil companies have enjoyed due to rising energy prices, with the minority leader calling the proposal a "gimmick."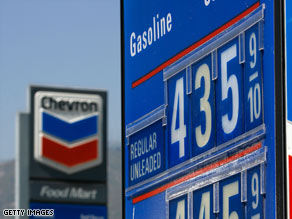 Record energy prices have led to record profits for oil companies.
The measure failed to achieve the 60 votes required by Senate rules to proceed. The vote was 51-43.
Six Republicans, including three seeking re-election in November, broke ranks to support the bill.
Two Democrats -- Sen. Mary Landrieu of oil-producing state Louisiana and Majority Leader Harry Reid, who voted no to be able to bring the measure back to the floor under Senate rules -- voted against the measure.
Along with placing a special tax of 25 percent on oil companies, the bill would have permitted lawsuits against the Organization of Petroleum Exporting Countries, the oil-producing cartel, and suspended deposits into the Strategic Petroleum Reserve.
Profits from renewable energy sources would be excluded from the tax.
"We're not afraid, on this side, to go after Big Oil when they are not doing the right thing," said Sen. Charles Schumer, D-New York. "And we are not afraid to go after OPEC because they are a cartel that squeezes us.
Don't Miss
"We're not afraid to do some strong tough things that will -- some in the short run, some in the longer run -- that will bring down the price, the all too high price, of gasoline."
Sen. Byron Dorgan, D-North Dakota, said the measure was needed to "wring out" speculators he blamed for driving the price of crude oil to more than $130 a barrel in recent weeks
But Senate Republicans insisted the new taxes ultimately would hurt consumers and cut American oil supply, saying Democrats simply were playing election-year politics.
The bill is "pure and simple a pathetic attempt to even call itself an energy plan," said Sen. Kay Bailey Hutchison, R-Texas.
Senate Minority Leader Mitch McConnell said, "Hitting the gas companies might make for good campaign literature or evening news clips, but it won't address the problem. This bill isn't a serious response to gas prices. It is just a gimmick."
The Kentucky Republican added, "They are hoping the idea of going after energy companies will create the illusion of action after a week in which they themselves fought for a bill that would make the problem worse. What a political charade."
As the average cost of gas edged above $4 a gallon, high prices are definitely on the minds of voters.
A CNN/Opinion Research Corp. poll released Tuesday shows 40 percent of respondents are more concerned about the cost of gasoline than long lines at the pump, which occurred during the energy crisis of the 1970s.
But 55 percent of those surveyed are more worried about the long lines and rationing.
The poll results reflect telephone interviews with 1,035 adults on Wednesday and Thursday. The margin of error is plus or minus 3 percentage points.
E-mail to a friend

CNN's Ted Barrett, Lisa Desjardins, Matt Smith, Virginia Nicolaidis and Scott J. Anderson contributed to this report.
All About U.S. Senate • Energy Policy • OPEC