By Chris Welch
CNN

In our Behind the Scenes series, CNN correspondents share their experiences in covering news and analyze the stories behind the events.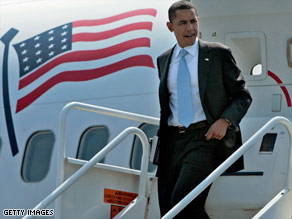 Barack Obama was conspicuously absent when his plane took off Thursday with a gaggle of reporters inside.
WASHINGTON (CNN) -- What seemed to be a routine evening waiting for Barack Obama aboard his campaign plane turned into anything but when the cabin doors closed and the passengers were informed the aircraft would be taking off immediately -- without the candidate.
The first sign something was amiss on the Thursday flight came when the pilot told those aboard -- about 25 members of the media, a smaller group of Obama staffers and only a handful of Secret Service agents -- that everyone was on board and that the plane would be departing for Obama's hometown of Chicago, Illinois, momentarily.
The press soon noticed there were far too few people aboard for a standard campaign flight. Something was different. It's fair to say that the term "everyone" was used a bit loosely -- especially when the presumptive nominee appeared to be missing.
As the plane taxied, communications director Robert Gibbs admitted that Obama was remaining behind because he "wasn't going to be back in D.C. for a while" and had "scheduled some meetings" before he left.
Obama staffers, including Gibbs and Linda Douglass, a newly appointed senior adviser and campaign spokeswoman, didn't ask the reporters on board if they'd prefer to wait on the runway in Washington until the meetings concluded. They were going to Chicago. Without Barack Obama.
Don't Miss
"I'm not going to discuss what he's going to do tonight," Gibbs added before heading up to the front of the plane, moments before wheels up from Washington Dulles International Airport in Virginia.
It was just after 9 p.m. -- just about the time, it is now known, Obama was sitting down to meet with Hillary Clinton.

Watch Gibbs discuss the meeting »
For 45 minutes before departure, however, Obama's staffers gave the impression that everyone was waiting because Obama would arrive shortly.
With the plane sitting on the tarmac, staffers shot the breeze with members of the press as if nothing was amiss, though they later admitted they knew all along Obama wasn't coming.
One campaign aide said he asked not to be told what was going on so that he "wouldn't have to lie."
Asked later in the evening why the press was kept waiting there if they knew Obama wasn't coming, Gibbs said he "had two phone calls to make."
Once airborne, a timid and slightly giggly Gibbs granted the confused and agitated press corps a meeting, one that any eyewitness would have easily labeled contentious and heated.

Watch the riled press corps grill Gibbs »
Gibbs took on a barrage of questions, and, to his credit, listened to what he called the "anticipated grievances" from the press for almost 20 minutes.
"He's having a secret meeting tonight, and we're not going to see him until Monday" because of three scheduled "down days," one reporter began. "I'd like to say that's unacceptable. He's the -- "
"Presumptive Democratic nominee?" Gibbs finished, adding a giggle. "Yeah."
Questions centered largely on why the press was essentially held hostage with no candidate and no choice but to fly to Chicago on a chartered plane -- a flight many news organizations pay thousands of dollars to keep their journalists stationed on, ideally with the candidate.
"We're not paying however much this plane is to be here -- no offense -- with you," one reporter said to Gibbs as the largely newsless news conference wrapped up.
When pressed, Gibbs admitted he was responsible for how the situation was handled.
"It wasn't an attempt to deceive in any way," he said. "It was just private meetings."
For the duration of the one-hour and 25-minute flight, Douglass remained out of sight at the head of the plane, leaving Gibbs the sole person on the record for the evening.
It wasn't until the aircraft was on the ground in Chicago that Gibbs conceded his candidate met with former Democratic rival Hillary Clinton.
He delivered no details of any substance from the meeting but said the two talked about "bringing the campaigns together in unity." He also said the rendezvous did not happen at Clinton's Washington home. He declined to say where it did happen.
Meanwhile, in Washington, CNN reporters joined others searching for the Obama-Clinton meeting. Tom Foreman reported from outside Clinton's home shortly after 10 p.m. that "there seems to be a certain buzz of activity here right now."
But the real buzz was just finishing up about that time in Sen. Dianne Feinstein's living room, where Obama and Clinton had talked alone for about an hour.
Two hours after the plane touched down in Chicago, Gibbs finally confirmed Obama's whereabouts, in an e-mail to some reporters at 12:15 a.m. "In the air -- hasn't landed," was the extent of the message.
By that point, a number of television outlets had already made their way to Obama's house, about a half-hour from downtown Chicago, to begin a stakeout process that remained under way late Friday afternoon and, pending any unexpected appearance from the senator, was likely to continue until he heads out on the campaign trail again Monday morning.
E-mail to a friend

All About Barack Obama • Hillary Clinton • Dianne Feinstein