By Brad Lendon
CNN

(CNN) -- Gas stations across the country are increasingly offering discounts for fuel purchases made with cash as high oil prices eat into their profits.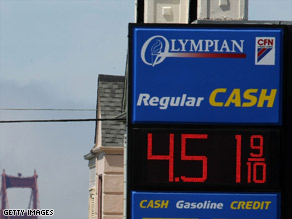 Gas stations like this one in San Francisco, California, are required to clearly show cash and credit prices.
The difference of 10 cents a gallon or more has some customers used to paying with a credit card irate, but station owners say they have to do something to turn a profit.
"If we pay 3 percent or even a little less than that at $4 a gallon in a credit card fee, and I'm making 12 cents a gallon, that's my entire profit," said Paul Kelly, who owns a Sunoco station in New Jersey.
Customer Jim Coogan hadn't read the signs and didn't realize he would be paying 10 cents a gallon more at Kelly's Sunoco when he swiped his credit card.
"I don't think that's fair," he said when a reporter pointed out the difference.
"It's a matter of survival for us," Kelly said of the extra credit card charge.

Watch why a New Jersey gas station offers a cash discount »
Brandon Wright, manager of communications for the Petroleum Marketers Association of America, said the high gas prices hit station owners in two ways: the transaction fee they pay credit card processors and less business for profitable items inside the store.
"Fewer folks are driving meaning less convenience store traffic," Wright said.
Wright said the discount for cash purchases shouldn't surprise anyone.
Station owners are required to clearly post either separate prices for cash and credit or signs noting a discount for cash, said Wright, whose 8,000-member organization covers 100,000 of the nation's 160,000 gas stations.

See gas prices nationwide »
Motorist Miles Walcott of New Haven, Connecticut, told CNN affiliate WTNH-TV that he'd change his routine to take advantage of a cash discount. iReport.com: Are you getting hosed?
"I don't normally carry that much money around with me, because it'll probably take about $90 to $100 to fill my tank up. So, I mean, if I was going to save some money by using cash as opposed to using a credit card, then I would go to the ATM first," Walcott said.
Don't Miss
Credit companies say that they've made accommodations to try to keep credit card use competitive but that rising prices at the pump shouldn't be blamed on them.
"The oil companies have a bizarre arrangement with station owners. The oil companies restrict what the gas station owners can charge per gallon, up from the wholesale price, by 7 to 12 cents," said Trish Wexler, spokesperson for the Electronic Payments Coalition. That doesn't allow station owners to recoup their costs, which increase percentagewise.
"The oil companies are squeezing them," she said.
"The cost associated with accepting credit and debit at the pump is a cost of doing business, much like rent, utilities and salaries and, frankly, the cost of accepting cash, because there is a cost associated with that as well," including staff to take money and security plans to protect the cash, Wexler said.
Visa said last month that it was reducing its cut on petroleum purchases to give station owners and consumers a break.
Visa fee
15-gallon tank @ $4.00 per gallon = 94 cents charged to service station

Source: Visa
"By lowering our rates, we hope to see oil companies pass these savings along to their stations and ultimately to consumers," said Bill Sheedy, global head of corporate strategy and business development for Visa Inc.
MasterCard has also capped its fees on petroleum purchases to try to keep down prices.
Both MasterCard and Visa point out that credit and debit cards offer security and convenience that they say beats cash.
For some customers, that's an important consideration.
"What if somebody jumps me? Can't do that," trucker Martin Bouvet of Garfield, New Mexico, told CNN affiliate KFOX-TV.
On the West Coast, cash discounts on gas are nothing new.
ARCO, a unit of BP America that bills itself as the leading gasoline marketer in the West, stopped accepting credit cards in 1982. The policy allows ARCO customers to save 6 to 7 cents a gallon, the company says. It accepts debit cards but charges a 45-cent transaction fee.
A check of gasbuddy.com, which tracks gas prices in cities across the country, shows that the difference can be substantially larger.
An ARCO on Palomar Airport Road in Carlsbad, California, was selling regular for $4.27 a gallon Monday. Just a few miles down the street, Chevron and Mobil stations advertised regular for $4.59 a gallon.
Charles Langley, who has tracked Southern California gas prices for the Utility Consumers' Action Network for 10 years, says drivers who charge their gas can actually end up paying substantially more than the 32 cents in the Carlsbad comparison.
"More people are financing gas," he said, incurring interest payments along with the cost of the fuel. And he said credit card users need to be more aware and just check posted prices to save money.
"Credit card buyers are notorious for not looking at the price of gas," he said, staying loyal to either their brand of gasoline or credit card they've used for a long time.
Langley says he personally stopped paying for gas with plastic, and now drives by the motto "more gas for less cash."
E-mail to a friend

CNN's Jim Acosta and Julian Cummings contributed to this report.
All About Gas Prices • BP plc • Credit Card Debt