By Maureen Salamon
(LifeWire) -- The whispers and pointing started as soon as Sara Price reached her assigned table at her friend's wedding reception in Houston last January. Did she have raccoon eyes from crying during the ceremony? Mismatched shoes? A giant stain on her blouse?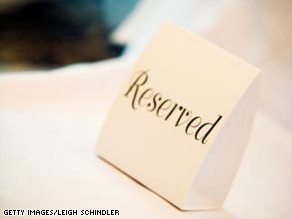 Single women guests at weddings can feel uncomfortable if questioned about the state of their romantic life.
Apparently it was much worse: The Dallas woman had the audacity to come to the wedding ... single. Price became the object of stares and sympathy as the only unattached person at her table.
"I tried to play it off -- I wasn't going to have a fit," says the 23-year-old marketing coordinator. "They became very protective of me, but then it was almost worse because it felt like they were pitying me."
With the most recent U.S. census data counting nearly 90 million unmarried Americans -- a whopping 41 percent of all adults -- Price is in good company. But woe to the singles who show up at the stream of summertime nuptials that constitute wedding season. From nosy questions about their marital status to tedious rituals like the bouquet toss, they get nearly as much attention as the bride and groom -- except much of it is unwanted.
"The whole emphasis in this culture is that it's a sin to be single. It's crazy," says Linnda Durre, Ph.D., an Orlando, Florida-based psychotherapist who counsels many singles. At weddings, unattached guests are "afraid people will think they're a loser and that they can't find a date," Durre says. "It's so foolish."
Managing the merger mania
Valid or not, the stress is sometimes enough to unhinge the uncoupled. As Doree Lewak watched many of her friends head to the altar, she felt so much pressure to follow suit that she started unintentionally sabotaging her romantic relationships.
"I really drove one relationship into the ground because I panicked so much," says Lewak, a 28-year-old freelance writer from New York City. "The guy almost had no choice but to run because I didn't make the relationship about us -- I made it about getting married and put it on an artificial timeline."
Lewak learned so much from the process that she decided to pen the book "The Panic Years" -- which evidently start after 25 -- advising readers how to change their relationship strategy from petrified to proactive. "When you face so much pressure about getting married," she says, "it really chips away at your psyche."
Katie Judd is dealing with a double emotional wallop. The 26-year-old Bostonian recently broke up with her boyfriend and is helping plan her sister's October wedding. It's her younger sister, by the way -- not a small point when the pressure to pair becomes palpable.
Judd, an account executive in digital media relations, is bracing herself for rude or withering comments at her sister's celebration, where she will serve as maid of honor.
"I think it would be ... awful to hear something like, 'It will happen for you someday,' because it will sound supportive, but it's really not," Judd says.
Even those who attend weddings with significant others are not immune to snarky, intrusive questions about their relationship status. Zac Rantz of Nixa, Missouri, has gone to quite a few ceremonies with his girlfriend of eight months only to find that other guests think "just dating" isn't quite good enough.
"Everyone else can think we're the perfect couple, and we can agree, but that doesn't mean we're ready to get married," says Rantz, 28, a school district public information officer. "These questions can be awkward, because it's between the two of us and not everyone else."
Aside from avoiding annoying queries and dodging the dreaded bouquet toss -- "I sneak out before that," says Price -- how can singles keep their dignity at weddings and have fun in the process? The most effective tactic may be to get out of their own heads, says Clay Cockrell, a Manhattan-based therapist who counsels many singles.
"All eyes are on the bride," says Cockrell, 38. "While you may feel uncomfortable about being single, it's really not about you. Realizing that you are not the focus of attention can reduce anxiety."
As for the happy couple, Cockrell offers several tips to help them show more sensitivity to their single guests at the reception:
• Plan a fun table. Scattering your single friends throughout the room isolates them and can place them in awkward situations. Avoid this by putting them all together.
• Don't ban the Chicken Dance. You may hate group dances such as the Macarena and the Electric Slide, but remember that singles like to dance, too, and making them watch countless slow dances between couples can be excruciating.
• Empathize. Try to remember what it was like to go to weddings when you were single. If you toss the bouquet, refrain from yelling out singles' names or dragging them to the floor.
• Keep in mind that wedded bliss is great ... for you: Baltimore wedding planner Linnyette Richardson-Hall, 47 and divorced, has had many a client try to fix her up at their nuptials during her 16 years in the business. "A lot of times when you're happy like that, you want everyone on that train," she says. "But I think I'll stay at the station."
E-mail to a friend

LifeWire provides original and syndicated lifestyle content to Web publishers. Maureen Salamon is a New Jersey-based freelance writer
All About Weddings • Celebrity Weddings