By Judy McGuire

(The Frisky) -- As any savvy online dater knows, you can spend hours crafting the perfect combination of wit, sophistication, and charm, but all your pretty words won't mean squat if your photo reeks.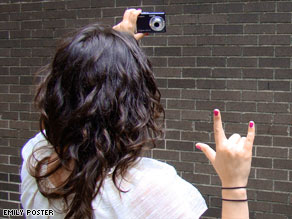 Unless you have street cred with Crips or Bloods, don't use gang signs in your personal ad photo.
That's not to say that you need to be a ringer for Angelina or J. Lo to get any play (though obviously that wouldn't be a hindrance), but you do need to have a photo that shows you in the best possible light without it being a completely misleading deception. Here's what not to do:
No matter how tempting, resist the urge to include small fuzzy animals or babies. While kittens and cooing infants are almost universally accepted as adorable, you do not want your plea for love to look like an outtake from CuteOverload.com. Not to mention, you will be alienating the large segment of the population who are allergic to cats and/or children.
See also:
Mysterious + sexy = date bait.
Warm + fuzzy = smelly old pair of slippers nobody wants to wear.
Along with children and animals, including other humans in your profile pic is a no-win. If they're other women, your prey may find them hotter than you. If you're arm-in-arm with a dude, you're going to be stuck answering a lot of boring questions about who he might be (and if you're dumb enough to post one with your ex, you deserve every single one of them).
Absolutely do not smear Vaseline all over your camera lens. While fuzzy focus may blur out that decade-old acne scar, he'll be left wondering what else he can't see.
Do not dip into the archives. Sure, you sure were cuter, thinner and spunkier five years ago -- we all were. However, he will not be dating the old you; he's stuck with the current version, so suck it up and live in the present.
Go easy with the retouch brush. Unfortunately, programmers have yet to invent a portable, real-life version of Photoshop, so resist the urge to trim an inch off your arm chub or augment your lips to twice their actual size.
Say no to naughty shots. Unless you're looking for a "no strings attached" assignation or are hoping to solicit a lot of naked photos by way of reply, don't get frisky with the camera until after you've actually met and determined that you like the person.
Unless you actually are a Crip or Blood, do not flash gang signs in your photo. (And no, Alpha Chi Omega does not count as a gang, no matter how color-coordinated you gals happen to be.)
Don't decapitate yourself. While it's lovely to include a shot that highlights your body (clothed, please) with your personal ad, do not do this at the expense of your upper half. Photos without faces send a clear message and that message is: "I'm married."
If you're not married, and are simply too embarrassed to show your face because Bob from accounting might find out you're trying online dating, do the world a favor and get over yourself. Dating off the Internet is about as wild and crazy as a night out at Applebee's.
E-mail to a friend

TM & © 2009 TMV, Inc. | All Rights Reserved
Judy McGuire is the author of "How Not to Date" and writes the "Dategirl" advice column for the "Seattle Weekly."