By Mythili Rao
CNN

NEW YORK (CNN) -- Online dating site eHarmony will create a service for same-sex matching in a settlement of a 2005 complaint that the company's failure to offer such a service was discriminatory.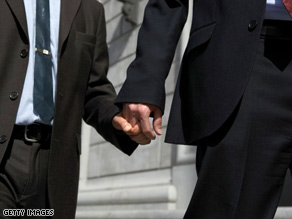 The new same-sex matching service from eHarmony, Compatible Partners, is set to debut by March 31.
Under terms of the agreement with the New Jersey attorney general's office, eHarmony Inc. will start the service, called Compatible Partners, by March 31.
"With the launch of the Compatible Partners site, our policy is to welcome all single individuals who are genuinely seeking long-term relationships," said Antone Johnson, eHarmony vice president of legal affairs.
The company and its founder, Neil Clark Warren, admit no wrongdoing or liability.
"Even though we believed that the complaint resulted from an unfair characterization of our business, we ultimately decided it was best to settle this case with the attorney general, since litigation outcomes can be unpredictable," eHarmony attorney Theodore B. Olson said.
Under the settlement's terms, eHarmony will post photos of successful same-sex couple matches on the company's Web site and in promotional material. The company has also agreed to revise statements on its Web sites, handbooks and other publications to indicate that it does not discriminate on the basis of sexual orientation.
The settlement also requires eHarmony to pay plaintiff Eric McKinley $5,000 and to pay the New Jersey Division on Civil Rights $50,000 to cover administrative expenses.
"I applaud the decision of eHarmony to settle this case and extend its matching services to those seeking same-sex relationships," said Frank Vespa-Papaleo, director of the New Jersey Division on Civil Rights.
CNN was unable to reach McKinley for comment.
According to the company, on average, more than 236 heterosexual eHarmony members are married every day in the United States.
E-mail to a friend

All About eHarmony.com Inc. • Dating • Gay and Lesbian Relationships • Relationships