By Ron Dicker
(LifeWire) -- When does asking an ex-spouse for a favor cross the line?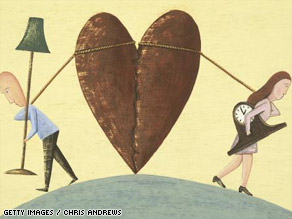 Crystal Byrd of Cedar Creek Lake, Texas, has a pretty good idea. She says her ex-husband asks to borrow money for gas and groceries, has requested that she make lunch for him when he comes to pick up their 5-year-old daughter and 11-year-old son, and even inquired whether she could make a deposit on his new apartment.
"There's no point in getting mad at him anymore," says Byrd, 31, a stay-at-home mom who divorced in 2007 after 11 years of marriage and is engaged to remarry. "That's just how it is."
The case files of divorce simmer with the resentment created when an ex-spouse constantly pleads for favors. The routine exchanges of marriage (Will you fix the sink? Lend me $20? Pick up the kids?) can become bitter boundary issues if they continue after the divorce.
'You have to stand your ground'
The solution, experts say, can be as easy as the put-upon ex-spouse saying no, or as extreme as calling lawyers again.
For her part, Byrd deals with her ex's entreaties on a case-by-case basis. If the favor involves the kids, such as a loan to buy them something, she says yes. But lunch upon arrival and financial help with his new apartment? "No!" she says.
Byrd concedes it isn't the ideal solution. "If I knew what to do, I wouldn't be in the situation I am in."
New York City attorney Raoul Felder, who served as counsel for Rudy Giuliani and to the ex-wives of Martin Scorsese and Mel Brooks in their divorces, has seen both men and women overstep boundaries following a separation.
One client's ex-husband habitually asked the family housekeeper to come to his home and do his laundry. When Felder's client objected, her ex simply dumped his laundry at her house. Another client's ex-wife called Felder after she couldn't reach her former spouse in Europe to ask how to fix the home sound system; Felder directed her to her own lawyer.
"Most times nature works these things out eventually," says Felder, "but 'eventually' can be a long time."
After divorcing last year, Shelley Stile, 56, of Montclair, New Jersey, became a divorce counselor. She admits to asking her ex-husband, Scott Konner, for such favors as chauffeuring their two teenage children to activities and attending school events in her stead -- even when she has custody of the children.
Konner eventually put his foot down on the favor-granting.
"You have to stand your ground," says Konner, a 49-year-old real estate lawyer.
Although Stile felt hurt initially, today both she and Konner say they have an amiable relationship, and a spirit of businesslike cooperation has taken over when it comes to the kids.
No one size fits all solution
Pat Barbarito, a family law attorney whose Denville, New Jersey, firm represented former New Jersey Gov. James McGreevey in his divorce, says it is unrealistic for two people who relied on each other for years and had children together to change their relationship overnight. It is also counter to human nature.
"The vows don't say 'until divorce do we part'," she says.
Barbarito adopts a relaxed approach to clients and their exes when it comes to drawing boundaries. The transition does not have to be all or nothing, she explains. "If people make a decision that they want to remain a family, who are we to say it has to be an issue?"
Divorced since their daughters were toddlers, Robin Savitz, 54, and Roger Childs, 56, of Denver have worked out an unusual system that works for them. Childs routinely performs handyman work around the house of Savitz and her current husband, David. Childs has stained floors, renovated a deck, cleared the snow and even house-sat.
Savitz says Childs and her husband, who is not the handy type, are good friends, and that they have paid Childs for his work. "I compensated somewhere," she says. "I didn't try to use him."
Childs, who never remarried, says he's taken flak from his family over the years for his "unique relationship" with his ex-wife. "She's a good gal," he says. "She's not been unfair with me."
Where to draw the line
Problem only arise when the ex-spouse called upon to perform certain tasks feels imposed upon, Barbarito says. At that point, it's time for the aggrieved to summon the courage to stand his or her ground. Here are some tips for establishing clear boundaries if your ex still acts as though you're married:
• Establish guidelines, in writing if necessary.
• Create truly separate households.
• Build a strong support system outside of your former marriage.
• Recognize when severing emotional ties has become too daunting and get professional help.
E-mail to a friend

LifeWire provides original and syndicated content to Web publishers. Ron Dicker, a Brooklyn-based journalist, frequently writes about relationship topics. He previously covered sports for the New York Times.