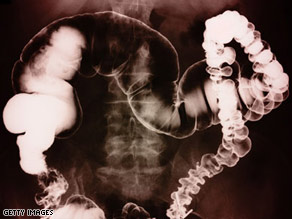 The human colon, shown here in an x-ray, is susceptible to colorectal cancer.
Overview
A new study by Canadian researchers, published in the Annals of Internal Medicine, found that colonoscopies are still very effective in detecting colorectal cancer, but they're only good at doing so in cancers found on the left side of the colon, not on the right side.
An editorial estimated that instead of previous estimates of cancer death lowering by 90 percent, a more realistic estimate is 60-70 percent.
Possible reasons the test favors the left side include the form and structure of the colon's different parts, and the different types of polyps that are commonly found on the right side versus the left side. But colonoscopies still are the gold standard, and everyone should have them starting at age 50. Colorectal cancer is the third most common cancer killer in the United States, and it is also highly preventable.
Questions and answers
It has been hailed as one of the most effective cancer detection tools available, but how effective is a colonoscopy in detecting colon cancer?
First of all, a colonoscopy is one of the best cancer detectors we've got.
Some estimates have said that it is 90 percent effective in reducing the number of deaths from colon cancer by catching it early. But it's not a perfect tool. Canadian researchers took a closer look at its usefulness and they found that while it is really good at detecting cancers on the left [descending] side of the colon, it doesn't really work well on polyps on the right [ascending] side of the colon. An editorial suggested the effectiveness might be closer to 60 or 70 percent.
Why would a colonoscopy's effectiveness be different between right and left sides of the colon?
• The colon has four different parts, including the ascending and descending colon, which are physically very different.
• One possibility is the polyps on the left side of the colon are sort of mushroom-shaped with a stem, thus making them easier to see (and to remove). Whereas the right side often has more squattier-looking polyps that don't have stems, or are sometimes flat and thus harder to see.
• Other possibilities are that it's harder for an endoscope to reach the right side than the left side, or that the treatment you drink to clean out the colon before you get screened isn't being taken properly.
• Most likely there's a combination of these factors going on.
Does this mean I don't need a colonoscopy?
No, not if you're age 50 or over (or younger, if you have colon cancer risk factors). None of this research is to say that you shouldn't get a colonoscopy; it's not perfect but it's still the gold standard and it's a very good test.
What this does mean is that just because you had one a couple of years ago doesn't mean that you're clear from developing colorectal cancer forever. It may have been missed, or it may have developed afterward. So if you're having symptoms (such as blood in your stool, a new pain, a major change in how your bowels work), don't ignore it -- go see your doctor.
There's also bad news about the rates of colon cancer among racial minorities, isn't there?
That's right. A report by the American Cancer Society found that even though overall rates of colorectal cancer and deaths from it had gone down in the United States, black men and women are still 45 percent more likely to die from the disease compared with their white counterparts.

The gap appears to be increasing: Three years ago a similar report found that about 63 out of 100,000 white men had the disease compared with 73 black men, a difference of 10. This year's report found that it's more like 59 of every 100,000 white men, versus 71 black men, a difference of 12.
One of the main reasons for the disparity is that blacks lag in getting screened for colorectal cancer.
Colorectal cancer is the third-leading cause of cancer deaths in the United States, but screening can prevent cancer, because from the time you detect polyps in a colonoscopy -- which are not yet cancerous growths -- it will take 10 to 15 years to turn into cancer. So, if you remove the polyps before they turn into cancer, you can avoid it altogether.
E-mail to a friend


Background
CNN spoke with Dr. Nancy Baxter, M.D., Ph.D., colorectal surgeon, researcher at St. Michael's Hospital in Toronto, Canada, and lead author of the study on colonoscopy effectiveness. Here are some notes from that conversation:

What is the significance of your study?

Your colon isn't like your legs; it's not bilaterally symmetrical -- the different parts look different and have different functions. So, we tried to look at the effectiveness of colonoscopies, which have been promoted as the best screening tool for colorectal cancer. We used a case-control study method, which is not the best way (that would be a double-blind, randomized study trial). But there's no current study looking at colonoscopy in the randomized study trial right now, so it would take another 10-15 years to get results from that kind of a study if it were started today. So, this is the best study available right now.

We expected we'd find that the colonoscopy is effective, and that's what happened; it's more effective than most other screening tests we have -- more so than mammography for prevention of breast cancer deaths even. But we did see that colonoscopies prevented about two-thirds of left-sided cancer deaths, but it did not do so at all for right-sided cancer deaths.

Did you think the estimate that colonoscopies lead to a 60 to 70 percent reduction in risk of dying from colon cancer is fair (this is much lower than previous estimates of 76 to 90 percent reduced risks)?

Yes, I think it's fair, but even this estimate is kind of picked out of the air. We don't know for sure how effective colonoscopy is in preventing colon cancer death. This study doesn't give you a precise number because that's one of the limitations of the study. But we know it's less than 90 percent. Sixty or 70 percent is probably a good estimate, though, but not based on any definite evidence yet.

What is your advice based on these results?

You should not decide to forgo a colonoscopy for screening if current guidelines suggest that you're in the group of people who would most benefit from one. It's one of the most effective screening tests we have. But it's still important for primary care providers to talk to patients and discuss the fact that there are less invasive possible screening tests out there, too, that you could consider in addition to a colonoscopy. And, if you have already had a colonoscopy but have new symptoms, something may have developed, or [been] missed. The likelihood is small, but it still exists.