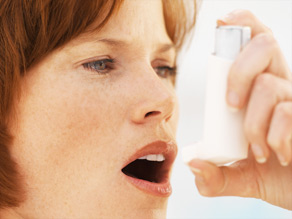 Toxic chemicals and particles at work can irritate lungs, causing the development of "occupational asthma."
Overview
We've all thought we were allergic to work in the figurative sense right? But it's actually possible to be physically allergic to work. The condition is called "occupational asthma" and about one in seven people suffers from it, according to the American Academy of Allergy, Asthma & Immunology. Some of the symptoms are the same as "typical asthma," such as quick, short sips of breath, wheezing, and tightness in the chest. Other symptoms include coughing, sneezing, congestion, and a runny nose. Since the condition is so similar to typical asthma, it becomes very difficult to diagnose.
Questions and answers
Who gets occupational asthma?
Elizabeth Cohen, medical correspondent: Anyone can get this, even healthy people who have never had asthma before. In fact, if you've never had asthma and all of a sudden you can't breathe when you start a new job, that's a huge warning sign.
Are there particular occupations that make you more susceptible to workplace asthma?
Bakers and pastry-makers have dust flying around all the time, which puts them at risk for it. Hairdressers, housekeepers, and janitors have chemicals they're breathing in all day, so they're also susceptible. Toxic chemicals, small particles and certain types of equipment can all become irritants to your lungs. Smoking can make all of this worse. If you had typical asthma before, exposure to lung irritants could also worsen your condition.

So what are you supposed to do if you have occupational asthma? Just quit your job?
Maybe. It depends on how bad your symptoms are. In the worst-case scenario, ignoring this could lead to permanent lung damage. First, you've got to figure out if your asthma is being caused by conditions at work. Ask yourself: Do symptoms worsen during the workweek? Did symptoms begin after starting a new job? Am I exposed to products or chemicals that cause asthma?
The good news is that this is reversible in most cases. First step, if you realize your workplace is causing the asthma, is to avoid the area or substances causing the lung irritation. Go to your boss and report the problem. Also, go to your doctor, who may prescribe a treatment that can mitigate your symptoms or help you avoid lung damage until you find a new job situation. And if you can't avoid it, you may need to think about another job that's less dangerous for your lungs.
E-mail to a friend