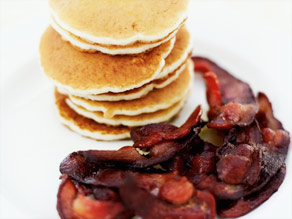 A breakfast high in carbs and proteins may actually help you lose weight.
Overview
Research suggests that having a big breakfast with carbohydrates and lean protein, and even a piece of chocolate, will help keep your appetite in check all day and help you lose weight.
The study compared sedentary, obese women eating a big breakfast containing carbs with sedentary, obese women eating a low-carbohydrate breakfast. Results showed that at the end of the eight-month trial, women eating the big breakfast lost an average of almost 40 pounds, while the low-carb breakfast group lost only nine pounds on average. Researchers at Virginia Commonwealth University, led by Daniela Jakubowicz, M.D., of the Hospital de Clinicas, Caracas, Venzezuela, conducted the study, released in June 2008.
Questions and answers
What qualifies as a "big breakfast"?
Elizabeth Cohen, CNN medical news correspondent: Here's an example of a high-carbohydrate, high-protein breakfast: A cup of coffee with cream, two 8-ounce glasses of milk, three slices of roast beef, chicken breast or turkey breast, two slices of cheese, and two slices of whole grain bread plus a pat of butter. And here's an example of the low-carbohydrate breakfast: Three slices of cooked pork bacon, one egg, two teaspoons of butter, coffee with no milk, four ounces of 1 percent milk. Although the study author tells us that the calories aren't the biggest focus here, when you compare the meals, the big breakfasts were about 600 calories, and then you eat another 600 calories between lunch and dinner. The low-carb breakfasts were about 350 calories, and you eat another 750 calories later on.
How did the study work?
Cohen: The two groups ate these types of breakfasts, and then both groups ate low-carb lunches and dinners for the rest of the day. The big breakfast eaters' primary goal was to fight off later cravings and to feel as if they were not depriving themselves of food in the morning. They were even told that if you still find you're hungry by noon, you probably need more protein in the morning -- so here, have another slice of meat!
By four months, both groups lost a decent amount of weight. By eight months, the big breakfast eaters were able to keep off the weight and keep losing, while the low-carb eaters gained some of those pounds back that they shed previously. The people eating the big breakfasts reported feeling less hungry and had fewer carbohydrate cravings.We know that ovarian cancer is often diagnosed too late in women.
Are these results controversial?
Cohen: Not everyone thinks results are valid. Critics say this research needs to be repeated and further evaluated. But the nutrition experts we talked to all agreed that a good breakfast does help you lose weight. They agreed that the earlier in the day you get your calories, the more efficiently your body uses them up, which equals better weight loss. Another dietitian raised the question of who's going to make themselves eat that much protein in the morning? Our bodies just don't want to, so that's another challenge.
Why does eating more in the morning help you lose weight?
Cohen: When you wake up in the morning, your body and your brain are primed to look for food. Your metabolism is revved up, and levels of cortisol and adrenaline are at their highest. The brain needs energy quickly, so if you don't eat enough early on, the brain looks for a different fuel source. It goes into emergency mode, resorting to the energy stored in your muscles, destroying muscle tissue. When you finally do eat, the body stores the energy it gets from food as fat. The high protein-carb mix gives the body the jump-start it needs in the morning. Because the protein is digested slowly over the course of the day, you don't feel as hungry. Not feeling hungry is what makes this diet successful, according to the study author.
In the morning, your serotonin levels are also high, so that keeps food cravings at bay. But later in the day, your serotonin levels go down, so you get cravings for indulgent foods such as chocolate. The study author says that if you eat the chocolate in the afternoon, your body gets addicted to that sensation, and you look for chocolate the next day at that time, too. Bubt if you eat it in the morning, it doesn't feel as good as it does when you eat it later, and so your body decides, "Hey I don't need this chocolate at all!"
We contacted the folks from the Atkins Corporation to find out what they think of the study, and their response was that "participants in the low-carb arm were destined to fail because the calories and protein intake were too low." They said the low-carb group's meal plan was not reflective of what an Atkins meal should be.
E-mail to a friend


All About Diet and Nutrition