By Elizabeth Landau
CNN

(CNN) -- When doctors told Kelly Harmsen that her son, Joshua, 2, had amblyopia, or lazy eye, she couldn't imagine keeping an eye patch on him for three hours a day. He pulled it off after about 30 seconds.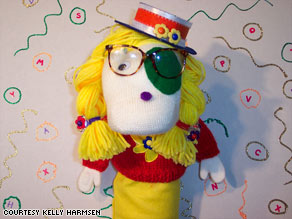 Kelly Harmsen made this puppet, called Patty, to motivate children to wear their required eye patches.
But when Joshua saw a cartoon with a patch-wearing pirate, he took his own patch out of the drawer and tried to put it on.
That gave his mom an idea: Make it fun.
She took socks, added eye patches and had her husband videotape the makeshift puppets. And so began the idea for the "Eye Patch Kids," a DVD of singing puppets she sells to motivate children to wear their eye patches.


With puppets, cartoons and celebrities wearing glasses and patches, children today can see that eyewear doesn't have to look scary or ugly. Young kids enjoy a wide variety of options for their eye correction, including glasses of many colors and styles.
In fact, optometrist Barry Kay of Hollywood, Florida, has seen a lot of kids faking eye problems over the past 15 years because they want glasses, particularly between the ages of 5 and 10. Some think frames are cool because their friends have them, while others want attention, he said.
"All the dorky things we thought were dorky are cool now," he said.
A recent Ohio State University study showed that children ages 6 to 10 consider people who wear glasses to be smarter and more honest than those who don't wear glasses. The study was published in the journal Ophthalmic and Physiological Optics last month.
Some children are still resistant to the idea of wearing glasses, but seeing frames on familiar faces helps a lot, eye care professionals say. Television and movie icons like Harry Potter have helped children view glasses as normal or even attractive.
If a child who needs glasses doesn't have any friends or relatives with glasses, optician Mary McRae in Brooklyn, New York, recommends that parents consider wearing glasses -- even with blank lenses -- to acclimate their child. She also recommends that parents point out others wearing glasses.
"Children are much more apt to embrace an idea if they see others participating," she said.
Photochromic lenses, which darken in UV light and become clear indoors, are also attractive to children, she said.
It's important for a child to pick his or her own glasses, even if the style is not what the parent prefers, says Karen Griffith, optometrist in Petaluma, California. Bright colors like blue and pink tend to be popular, along with frames that feature cartoon characters.

But kids have more options than just glasses.
These days most doctors are more comfortable putting kids in contact lenses at a younger age, depending on how motivated the child is and if they want them, she said. Contacts are now an option as early as age eight, while before only junior high or high school students wore them.
But Dr. Norman Medow, ophthalmologist in New York, said that 8 to 12-year-olds usually only get contacts if they have large prescriptions, if their ears have an unusual formation that prevents them from using glasses well or if their motivation is very strong.
Contacts are more practical for playing sports, which motivated one of Kay's 9-year-old patients to get them, Kay said. In general, girls want contacts around age 11 or 12, while he usually discourages boys below 12 or 13.
In exceptional cases, contact lenses are used for younger children. An infant who has undergone cataract surgery is left without a natural lens, and one option for restoring vision is a contact lens.
"Advances in contact lens technology have given doctors the ability to fit these infants with healthier, better fitting contacts," said Justin Bazan, an optometrist who is opening an eye practice with McRae in Brooklyn next month.
Research is ongoing on the merits of using contact lenses for this treatment instead of an implant, said Medow, who is also the director of pediatric ophthalmology and strabismus at Manhattan Eye Ear and Throat.

LASIK, laser surgery to correct nearsightedness, farsightedness, or astigmatism, is usually only for people older than 20, Kay said. Below that age, people's eyes grow, and their prescription may still be changing.

Optometrists also promote InfantSEE, a public health program through which an infant can get a free eye exam between age 6 months and 12 months. The program has been run by the American Optometric Association and Johnson & Johnson since 2005.
Joshua Harmsen, now 7˝, still wears his eye patch for about an hour three days a week. Though he has 20/20 vision, he has a form of strabismus that makes his eye just go out a little bit, his mother said.

His mother recommends parents go with their instincts, especially when it comes to deciding whether to go the surgery route.
"Make the doctor explain to you what goals they have," she said. "Being your child's best advocate" is important, she said.
E-mail to a friend