(CNN) -- Since she was 12 years old, Suzanne Africa Engo has been working to raise AIDS awareness.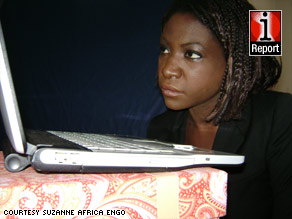 Susanne Africa Engo plans to run from New York to Chicago to raise AIDS awareness.
"Black women are an endangered species," she said in a phone interview.
AIDS is the leading cause of death among black women between 25 and 34, and the second-leading cause of death in black men from 35 to 44, according to a report released Tuesday.
The report , by the Black AIDS Institute, was compiled using just-released data from UNAIDS and research from the Centers for Disease Control and Prevention and Census Bureau.
"For a lot of young black women, what's putting them at risk is emotion," the 29-year-old iReporter said. "Young women are going to men for security -- you're talking about a fatherless home and a girl looking for approval. That's the kind of thing that puts them at risk."
Don't Miss
Engo plans to run from New York to Chicago in September to promote the New York AIDS Film Festival, which she organizes each year. She expects the run to take two months.
Poor health care also contributes to the AIDS epidemic in the black community, she said.
"People are not financially in a place to deal with the news" of being HIV positive, she said. "You're also talking about people with other things that put your immune system at risk, like weaker health in general." iReport.com: Poor health adds to risks
Engo thinks this is why AIDS is more prevalent among blacks -- both in the United States and Africa -- than in other groups.
"People with access to health care and drugs are living," she said.
iReporter Travers Johnson, a recent graduate of Morehouse College in Atlanta, Georgia, found a lot of myths on campus regarding the HIV test.
"It seems that people do know information about HIV and how you contract it, but they're still misinformed about testing procedures," he said by phone. iReport.com: Shattering uncomfortable testing myths
Johnson taped his own HIV test, which took about 20 minutes and involved no needles or blood -- just a swab that collects a small amount of saliva.
iReporter Nashawn Anderson also sent in a video about perceptions of HIV on campus. She interviewed her fellow students at Spelman College, a historically black women's college, also in Atlanta.
"AIDS is alive and active and [Spelman students] realize this," she said by phone. "They want to tell people to stay educated." Lack of education "is the only reason AIDS is still going on." iReport.com: Protection shouldn't strain relationships
"Put yourself first," a woman says in Anderson's video report. "A lot of people don't use protection because their partner doesn't want to use protection. But they need to think about it. If their partner really loves them, would they want to put them in that predicament?"
Thomas Warren sent in an iReport about a lesser- known AIDS epidemic -- that of older African-Americans.
"Older people sometimes don't perceive themselves at risk for HIV," says one woman Warren interviewed. "I think older people think of this as a young person's disease." iReport.com: Older blacks at surprising risk
Warren believes this can be blamed on a lack of education and a two-decade decline in the number of marriages.
"You really don't know your partner," says another woman. "You think you do, but you really might not."
E-mail to a friend

All About HIV and AIDS • African-American Issues