(CNN) -- A second twin has died at a Corpus Christi, Texas, hospital, where more than a dozen infants received overdoses of the blood thinner heparin, a lawyer said Thursday.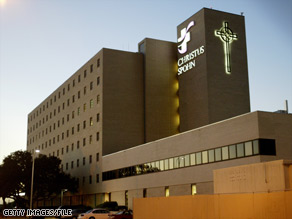 The Christus Spohn Hospital South says staffers "have taken extraordinary measures" to provide care.
An infant girl, Kay Lynn Garcia, died Wednesday afternoon after her twin brother, Keith, passed away earlier this week, said Bob Patterson, an attorney for the Garcia family.
Heparin is an anticoagulant often used to clean patients' intravenous tubes and prevent blood from clotting in the lines.
The Garcia babies, who were born prematurely, were ill and in the neonatal intensive care unit, and heparin may not have caused their deaths.
Christus Spohn Hospital South is investigating the overdoses, and spokeswoman Sherry Carr-Deer confirmed Thursday that 14 babies received a more concentrated form of heparin than was prescribed, three fewer than was reported Wednesday.

Watch how the hospital is responding »
"We know for sure, we know absolutely for sure, that there were 14 babies who got the concentrated heparin," Carr-Deer said. She said there were three other babies in the unit when the higher doses were given, but it wasn't clear whether they received them.
A judge approved Patterson's request Wednesday for a temporary restraining order directing Christus Spohn Hospital South to save any medication, documents, lab results and vials used in the babies' care.
"We haven't filed a lawsuit seeking damages, just trying to find out what happened," Patterson said.
He said he plans to ask the court Friday to let him take depositions from hospital personnel. He said he hasn't spoken to hospital officials.
The Garcias are "devastated," the lawyer said.
"The babies were roughly four weeks' premature. They should not [have been] at high risk. They had difficulty breathing at first, not all that unusual," Patterson said.
The doctor assured the parents that the newborns' lungs were fully developed, he added.
The other babies who received a higher-than-prescribed dose of heparin remain in critical but stable condition in the Corpus Christi hospital, Carr-Deer said Thursday.
"Our highly experienced and dedicated neonatal staff and physicians have taken extraordinary measures to deliver the best care possible," the hospital said in a statement. "We continue to keep the babies and their families in our thoughts and prayers."
In November, actor Dennis Quaid's 12-day-old twins were accidentally given overdoses of heparin at Cedars-Sinai Hospital in Los Angeles, California.
The twins were receiving intravenous antibiotic treatment for a staph infection.
According to standard procedure, nurses were supposed to clean the infants' IV lines with Hep-Lock, a drug containing a very small dose of heparin.
However, instead of the 10 units of heparin they were supposed to receive, the twins received 10,000 units, or 1,000 times the prescribed amount.
The labels on the two bottles were "deadly similar," Quaid told members of Congress at a May hearing.
The babies survived with no apparent permanent injuries, Quaid said, noting that the long-term effects are unclear.
The heparin in the Quaid case was made by Baxter Healthcare. Christus Spohn Hospital South said the heparin used in their case was not made by Baxter, but it would not say who manufactured it because the mistake was a mixing error, not a confusion of bottle labels.
E-mail to a friend

All About Corpus Christi