From Martina M. Stewart
CNN
(CNN) -- Sherry Johnston, whose son is having a baby with the daughter of Alaska Gov. Sarah Palin, was arrested Thursday on drug charges, Alaska State Police said.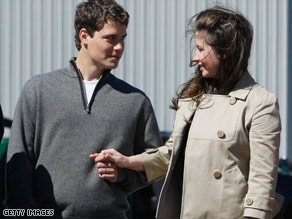 Bristol Palin, the eldest daughter of Alaska Gov. Sarah Palin, and her boyfriend, Levi Johnston, in September.
Johnston's teenage son, Levi, is the boyfriend of Bristol Palin, eldest daughter of the former GOP vice-presidential nominee.
Johnston was arrested in her home in Wasilla, Alaska, on six felony counts of misconduct involving a controlled substance, police said.
The warrant resulted from an undercover investigation that "had been going on for a while," Alaska State Trooper spokeswoman Megan Peters said.
Peters would not describe the type or amount of drugs allegedly involved in the arrest, saying such disclosures "could hamper the investigation."
Deborah Miller, supervisor of the criminal department in the clerk's office in Palmer, Alaska, told CNN that Sherry Johnston was released on bail and is scheduled to be arraigned January 6.
Palin spokesman Bill McAllister would not comment on the arrest.
"This is not a state government matter," he said.
E-mail to a friend

All About Bristol Palin • Sarah Palin • Wasilla • Alaska