(CNN) -- A Little Rock, Arkansas, television anchorwoman who was attacked in her home and severely beaten died from her injuries Saturday.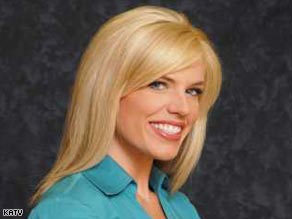 Anne Pressly, 26, was a popular morning news anchor at KATV in Little Rock, Arkansas.
Anne Pressly, 26, the morning anchor on KATV, was found in her home Monday, savagely beaten mostly on her face and upper body.
She had been hospitalized and sedated, unable to speak and suffering from massive brain swelling, her family said.
Police said she might have been the victim of a burglary because her purse was missing. Her credit card was used at a gas station sometime this week, police said.
Her father Guy Cannady appeared on "Good Morning America" earlier in the week and said he doubts the attack was random.
"It's so hard to understand, first of all, why would anybody vandalize and brutalize somebody to this extent," he said. "There are items missing from the home. The severity of the injuries and brutality of the attack in my own mind calls into question the motive."
Pressly's left hand was broken, possibly as she tried to fight off her attacker. Her father earlier said that his daughter's brain had swollen and she was unable to communicate, making it impossible for her to talk to police.
Public personalities, including those on television, are sometimes stalked.
Police have yet to identify a suspect, although detectives have combed the area around Pressly's home in the Heights neighborhood, a mix of bungalows and mansions near the Little Rock Country Club.
A $30,000 reward, established by KATV, will go to anyone who provides information leading to the arrest of Pressly's attacker, the station reported Saturday.
The anchor's death comes just one day after reports that her condition appeared to be improving. Dr. Clifton R. Johnson said on Friday that the swelling in her brain had gone down and that doctors were slowly reducing her sedative dosages.
Pressly's parents released a statement Saturday saying they were "with her in her last moments," and that they needed privacy.
On Saturday, KATV opened its nightly news cast with a seven-minute segment devoted to Pressly. Anchor Pamela Smith told viewers that Pressly's family agreed to have their daughter donate her organs. An emotional Smith read condolences sent into the station, her eyes red.
"She owned every room she was in, not because she demanded our attention, but because we willingly gave it to her," Smith said. "We all felt a little better, a little more alive just being near her."
Cannady told ABC News that his family has received many letters of support during the week from across the world. Director Oliver Stone wrote one of them. Pressly made a brief appearance as a television commentator in Stone's new movie, "W."
"You're one hellava gal," he wrote. "Keep fighting. You're a winner."
No funeral arrangements have been announced.
"Life was easy for Anne Pressly," Smith told viewers. "But it is her death that is so very hard for all of us."
E-mail to a friend

Copyright 2008 CNN. All rights reserved.This material may not be published, broadcast, rewritten, or redistributed. Associated Press contributed to this report.
All About Little Rock