From Bill Mears
CNN Supreme Court Producer

WASHINGTON (CNN) -- The U.S. Supreme Court rejected more than 2,000 pending appeals Monday, including a request to grant a new trial for former Black Panther Mumia Abu-Jamal, who was convicted of killing a Philadelphia police officer 27 years ago.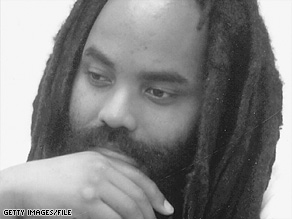 The Supreme Court rejects an appeal for a new trial for Mumia Abu-Jamal, shown here in 1994.
The court opened its new term Monday with Chief Justice John Roberts leading a brief courtroom ceremony noting, "The October 2008 term is now convened."
Former Justice Sandra Day O'Connor was among those in attendance.
Abu-Jamal was given the death penalty, and the case has since attracted international attention stemming from allegations of prosecutorial misconduct.
A federal appeals court has ordered a new sentencing hearing, so federal prosecutors will have to decide whether to again seek the death penalty or allow Abu-Jamal to spend the rest of his life behind bars.
Prosecutors also have the choice of appealing the order for a new sentencing hearing to the Supreme Court. The 53-year-old onetime radio reporter and cab driver has been a divisive figure, with many prominent supporters backing his contention that he was a victim of racism at his trial.
Others have countered that Abu-Jamal is using skin color to escape responsibility for his actions, and say he has divided the community for years with his provocative writing and activism. Abu-Jamal is black, the police officer was white. A jury of 10 whites and two blacks convicted him of capital murder and sentenced him to death.
One of the first cases justices tackled Monday dealt with an old issue: whether federal regulators have ultimate power over nationwide marketing practices, essentially blocking state courts from hearing lawsuits involving tobacco.
The broader issue is known as "pre-emption," and the conservative majority court in recent years has given business interests limited protection from such tort actions. The justices seemed similarly inclined in this appeal.
When the lawyer for consumers said the issue was strictly about unfair marketing and not about proving health-related damages, several justices were skeptical.
"How do you tell whether it's deceptive or not unless you look at what the relationship is between smoking and health?" asked Roberts.
"The reason the product is of different value [under federal oversight] is that in fact it is dangerous to health," noted Justice David Souter.
Three Maine smokers had brought suit against the nation's largest cigarette maker, Philip Morris USA, and its parent company, Altria Group. The individuals had smoked Marlboro Lights or Cambridge Lights for at least 15 years, according to court records. They allege the brand's labeling as "light" and "lowered tar and nicotine" was misleading, and sued the company in state court. A federal appeals court eventually allowed the case to go forward.
The Federal Trade Commission, under authority from Congress, had approved for about four decades the testing method used by tobacco makers to measure tar and nicotine yields. The plaintiffs claimed internal industry documents cast doubt on the "light" claims and that the FTC failed to act to rein in such advertising.
Smokers of light cigarettes, meanwhile, compensated by ingesting more smoke with longer puffs, thinking they were getting less nicotine and tar, they claimed.
Congress had specifically pre-empted such individual state claims under a 1965 law. Only the Surgeon General's warnings on the dangers of smoking are allowed on cigarette packaging. The idea was to create uniform and clear labels, apart from myriad state warnings.
The justices sought boundaries on just how far tobacco could make claims in its advertising.
"Somebody could advertise smoking 42 cigarettes a day will grow your hair back," said Justice Stephen Breyer. Or, he added "it will build strong bodies eight ways." Laughter erupted in the courtroom.
More seriously, Breyer noted the federal government over the years has respected state laws over the safety and advertising of consumer products.
"What I can't understand is why Congress would want to get rid of, in this case, the traditional rule that advertising has to tell he truth," he said. "There is no evidence there is a problem. So why would Congress want to get rid of that particular statute?"
Justice Ruth Bader Ginsburg expressed deep skepticism in her summary of the tobacco companies' case. "As far as the advertising of low or light, Congress empowered one decision-maker only, and that's the FTC, and if they don't act, then the cigarette companies can say anything they want?"
The court in March ruled medical device makers could not be sued in state courts because the Food and Drug Administration has predominate jurisdiction over product safety.
The justices will also hear an appeal next month over prescription drug labeling. A Vermont musician sued Wyeth Pharmaceuticals over an anti-nausea drug that was improperly administered, resulting in the amputation of her arm. She claims the drug warnings were inadequate, but the company says it is exempt from such lawsuits.
The tobacco case is Altria Group Inc. v. Good (007-562). A ruling is expected in the next few months.
Other noteworthy appeals the court denied came in a lengthy orders list, which offered no specific explanation for why the justices refused to intervene.

• Lett v. U-S (07-1042) -- A federal trial judge mistakenly gave an Iraq war vet turned small-time drug dealer a criminal sentence, which the judge later reduced after being alerted by a lawyer friend of the defendant. The issue is whether such retroactive "corrections" are allowed. A federal appeals court agreed with federal prosecutors that the judge lacked the discretion to revise his sentence downward.
• Translogic Technology v. Dudas (Patent Office Dir.) (07-1303) -- Dispute over the process for appointing administrative patent judges.
• Kennedy v. Louisiana (07-343) -- Louisiana prosecutors have asked the Court to revisit its June decision banning capital punishment for child rapists, saying the justices committed a "significant error" when concluding there was a "national consensus" against executing non-murderers. The justices refused, saying such a consensus exists despite the change in federal military law. This case was announced last week.
• Cerquiera v. American Airlines (07-1495) -- Can airlines be sued for alleged racial discrimination for refusing to board passengers for "safety" reasons? The captain says a man in a ponytail approached him in the terminal preflight in 2003 in Boston and asked if he was piloting his flight. When told yes, the stranger then said "Good. I'm going with you. We're going to have a good day today."
The captain testified, "It [was] probably one of the most odd exchanges that I've ever had with anyone in my entire career, and it concerned me greatly." The passenger boarded the plane but was then removed, and a federal appeals court ruled it was proper.
• Kentucky v. Leach (07-1213) -- Upheld a lower court ruling that police can conduct "knock and talk" investigations at a private residence back door without violating the Fourth Amendment.
• DIRECTV v. Huynh (07-1261) -- A man is charged with "assembly" of piracy by removing then reinserting a previously disabled access card into a set-top receiver. The case was dismissed by the courts.
• Lucero v. Texas (07-1429) -- A death row inmate wants a new trial after the jury foreman read Bible passages during deliberations to persuade holdouts to impose capital punishment.
• Cate v. Anderson (07-1436) -- A suspect who repeatedly "pleaded the Fifth" and refused to talk was nevertheless interrogated further. Does that violate Miranda protections?
• Yanai (warden) v. Girts (07-1452) -- Was it unfair for a prosecutor to make indirect references in closing arguments of a defendant's refusal to testify on his own behalf at trial?
• American Coalition of Life Activists v. Planned Parenthood of the Columbia/Willamette (07-1546) -- An abortion clinic won a multimillion dollar judgment against authors of the "Nuremberg Files" Web site, which lists the names of slain abortion providers. The high court decided not to intervene.
E-mail to a friend

CNN's Tristan Smith contributed to this report.
All About U.S. Supreme Court