BEIJING, China (CNN) -- Victims of tainted baby formula, which caused hundreds of thousands of infants to become sick, six of whom died, are expected to be compensated by 22 Chinese dairy producers that made the milk.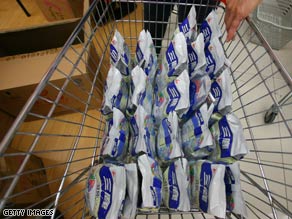 Markets withdrew Sanlu milk powder in September after melamine was found as an additive.
"The enterprises offered to shoulder the compensation liability," the country's Dairy Industry Association said Saturday, according to state news agency Xinhua. "By doing so, they hope to earn understanding and forgiveness of the families of the sickened children."
The group said victims will receive a one-time cash payment, but did not provide the amounts, according to Xinhua. "The money for compensation is in place now and will soon be handed to the people who have custody of the sickened children through various channels," the association said.
No date for the payments was given. The 22 dairies also raised money to cover medical bills for any after-effects suffered as a result of the poisoning, the association said.
Six children died from what the Ministry of Health said was likely melamine contamination. About 294,000 infants also suffered from urinary problems such as kidney stones.
The tainted formula came to light in September after babies who were fed milk powder produced by the Sanlu Group developed kidney stones.
Melamine is commonly used in coatings and laminates, wood adhesives, fabric coatings, ceiling tiles and flame retardants. Some Chinese dairy plants added the chemical to milk products so they would appear to have a higher protein level.
But health experts say ingesting melamine can lead to kidney stones, urinary tract ulcers and eye and skin irritation, as well as robbing infants of needed nutrition.
Chinese investigators found melamine in nearly 70 milk products from more than 20 companies, according to quality control official Li Changjiang, who was eventually forced to resign. At least 18 people were arrested and new government safety measures are being put into place.
The Sanlu Group has filed for bankruptcy. A melamine producer and dealer are standing trial in China's Hebei province in connection with the tainted milk powder.
As of November 27, 861 babies remained hospitalized, Xinhua reported, citing the Ministry of Health. The news agency said it had requested updated numbers but they were not immediately available.
E-mail to a friend

All About Sanlu Group Co. • China