LONDON, England (CNN) -- Europe's financial markets suffered more heavy losses Wednesday despite the world's leading economies slashing interest rates to tackle the global financial crisis.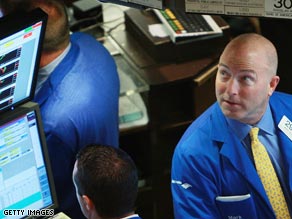 The New York Stock Exchange opened nervously following the interest rate cuts.
Markets in Britain, France and Germany closed well down despite the coordinated rate cuts led by the United States.
Wall Street, where good news was needed after a 500-point drop Tuesday, spent most of the afternoon about level but closed around 200 points down.
U.S. Treasury Secretary Henry Paulson said Wednesday that more economic pain looms but he urged "patience" and said the federal government will use all tools necessary to support banks.
The U.S. Federal Reserve cut its main rate by a half percentage point, with the central banks of China, Britain, Sweden, Switzerland and the European Central Bank all following suit with their own cuts.
The Fed reduced its key rate from 2 percent to 1.5 percent. In Europe, the Bank of England cut its rate by half a point to 4.5 percent, while the European Central Bank dropped its rate to 3.75 percent.
Global rate cuts
United States: 2% to 1.5%
Canada: 3% to 2.5%
European Central Bank: 5% to 4.5% England: 5% to 4.5%
Switzerland: 2.75% to 2.25%
Sweden: 5% to 4.25%
China: 7.24% to 6.93%
Hong Kong: 3.5% to 2.5%
Japan: Holding at 0.5%

"The recent intensification of the financial crisis has augmented the downside risks to growth and thus has diminished further the upside risks to price stability," the Fed said.

Soon after the cuts the International Monetary Fund (IMF) warned the world was "entering a major downturn" and that "many advanced economies are close to or moving into recession."

The IMF's World Economic Outlook, released Wednesday, called recent blows to the global economy "the most dangerous financial shock in mature financial markets since the 1930s."

Global growth was projected to slow substantially in 2008, and a modest recovery would only begin later in 2009, it said.

Watch European reaction to cuts »
The coordinated interest rate cuts followed the UK's unveiling of an $87.4 billion rescue package for its battered banking system Wednesday and massive losses during Asian trading that saw Japan's Nikkei plummet more then 9 percent in its largest single-day decline ever.
The FTSE 100 index of leading UK shares rose initially but then slid back into the red, down nearly five percent. France's CAC-40 and Germany's DAX both registered falls close to six percent, while Russia's major markets were off more than 10 percent before trading was suspended for two days.
Asian market declines
Tokyo's Nikkei 225: -9.38%
Hong Kong's Hang Seng: -8.17%
Jakarta's Composite: -10.38%
Taipei Weighted: -5.76%
Seoul's KOSPI: -5.81%
Sydney's All Ordinaries: -4.96%

Sydney's All Ordinaries index fell 4.96; Japan's Nikkei was down to another five-year low at 9.38 percent and Hong Kong's Hang Seng dropped 8.17 percent -- even as the territory announced it would lower interest rates a full percentage point.

Watch the rout in Asia »
In Jakarta, a 10.38 percent plunge on the Composite index resulted in markets being slowed to halt the decline. Other falls included South Korea's KOSPI at 5.81 percent, the Taipei Weighted at 5.76 percent.
"Investors are now afraid that the world is going to enter a depression," said Jesper Koll with Tantallon Capital Research in Tokyo.

Watch Asia's reaction to the cuts »
However, British banking shares rallied on news that the Treasury was making £25 billion ($43.6 million) available to major financial institutions with another £25 billion ($43.6 million) ready if needed. The Government also promised to lend another £200 billion ($350 billion) to banks in an effort to free up the money markets.

Watch CNN's Richard Quest explain rescue plan »
UK Prime Minister Gordon Brown called the move a "bold and far reaching solution" for "extraordinary times," insisting that the measure, which will see taxpayers take a stake in the banks, will "put the British banking system in a sounder footing."

Watch Gordon Brown explain 'bold' solution »
"This is not a time for conventional thinking or outdated dogma but for the fresh and innovative intervention that gets to the heart of the problem," he said.
Finance Minister Alistair Darling said the move would "send a clear message" that it can step in and help the financial industry amid the global economic crisis that exploded following the collapse of the U.S. sub-prime mortgage sector.
Darling insisted the government, which has already nationalized key mortgage lenders Northern Rock and Bradford & Bingley to ward off collapse, was not seeking to take over the running of the banks.
The scheme, involving Abbey National, Barclays, HBOS, Lloyds TSB Bank, Nationwide Building Society, Royal Bank of Scotland and Standard Chartered Bank, comes a day after British banks' stock prices nosedived on investor fears they would not be able to weather the financial storm without help.
Paulson also said Wednesday he would discuss with his counterparts in G7 countries what more can be done collectively to stabilize the financial system. He said he will be calling for a meeting of the G20, which includes countries with emerging economies.
Officials from the G7 countries -- Canada, France, Germany, Italy, Japan, the United Kingdom and the United States -- are meeting in Washington, D.C., this weekend.
E-mail to a friend

Copyright 2008 CNN. All rights reserved.This material may not be published, broadcast, rewritten, or redistributed. Associated Press contributed to this report.