Quecreek 'miracle' offered Sago families false hope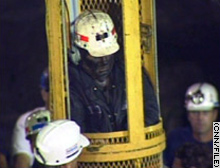 Randy Fogle was the first of the nine miners to be rescued from the Quecreek Mine in 2002.
2001: Explosions at a Jim Walter Resources Inc. mine in Brookwood, Alabama, kill 13 people.

1992: A blast at a Southmountain Coal Co. mine in Norton, Virginia, kills eight.

1989: An explosion at a Pyro Mining Co. mine in Wheatcroft, Kentucky, kills 10.

1986: A coal pile collapses at Consolidation Coal Co.'s mine in Fairview, West Virginia, killing five.

1984: A fire at Emery Mining Corp.'s mine in Orangeville, Utah, kills 27.
(CNN) -- As family members waited for word on the fate of the 13 West Virginia miners trapped in the Sago Mine, they looked up to God and north to Pennsylvania's Quecreek Mine. Both gave them hope.
During the summer of 2002, nine Quecreek miners emerged from a narrow rescue shaft after being trapped for more than three days. They were cold. They were sore. They were hungry. But they were alive.
The folks at Sago dared to hope for such a miracle.
But from the start, the two accidents were fatally disparate. Twelve miners died at Sago and one remains hospitalized.
Miners triggered the Quecreek accident when flawed maps led them to dig through the wall of a flooded tunnel, unleashing millions of gallons of water.
Water and cold were the main threats. The miners could fight off both.
At Sago, there was an explosion that generated poisonous carbon monoxide gas. Escaping that would be more difficult.
"It's a clear and different scenario, " Quecreek miner Harry "Blaine" Mayhugh told CNN. "Don't get me wrong, the water we hit was pouring as fast as any water ever seen, but we still had time to get out of the way and try to fight our way out of the mine," he said. "And their situation, the explosion happened quick. I mean, boom, it's there."
Mayhugh said that the Sago miners would not have had much time to react after the explosion and would have to deal with toxic gases from the blast.
It's not yet clear what happened to the 12 Sago miners after the explosion that trapped them 260 feet underground.
Authorities found the body of the 13th miner closer to the mine entrance.
The other Sago miners were found some 13,000 feet into the mine and had remained alive for a period of time following Monday's explosion, according to Ben Hatfield, CEO of International Coal Group.
They had built a "rough barricade structure," he said, and had donned their self-contained breathing apparatus. The apparatus held one hour of oxygen.
Hatfield said he has no way of knowing how long the miners were alive.
Rescuers dug a series of 6-inch diameter shafts into the mine in hopes of making contact. There was none.
But at Quecreek, miners were able to communicate with the surface by tapping on a pipe shortly after the drill reached their safe haven. Later, a phone was lowered to them so they could talk to rescuers.
Sensors at Sago detected deadly levels of carbon monoxide in the area where the men were working, but a camera did not show any sign of them. Rescuers and families held out hope they'd moved to an area with clean air.
At Quecreek, rescue efforts included pumping warmed, clean air into the mine. That infusion of air stopped the water from rising. At Sago, there was no way to pump out the lethal carbon monoxide.
In both mining accidents, friends and family had to endure painfully slow attempts to reach the trapped men.
Mine safety expert Mark Radomosky said the Sago emergency crews had to work carefully, even though they were racing against the clock.
"If you rush in, and if you try to reventilate the mine, for example, you could risk a secondary explosion," he said, "and put those rescuers at risk."

Home Page

CNN.com gives you the latest stories and video from the around the world, with in-depth coverage of U.S. news, politics, entertainment, health, crime, tech and more.

Home Page

CNN.com gives you the latest stories and video from the around the world, with in-depth coverage of U.S. news, politics, entertainment, health, crime, tech and more.